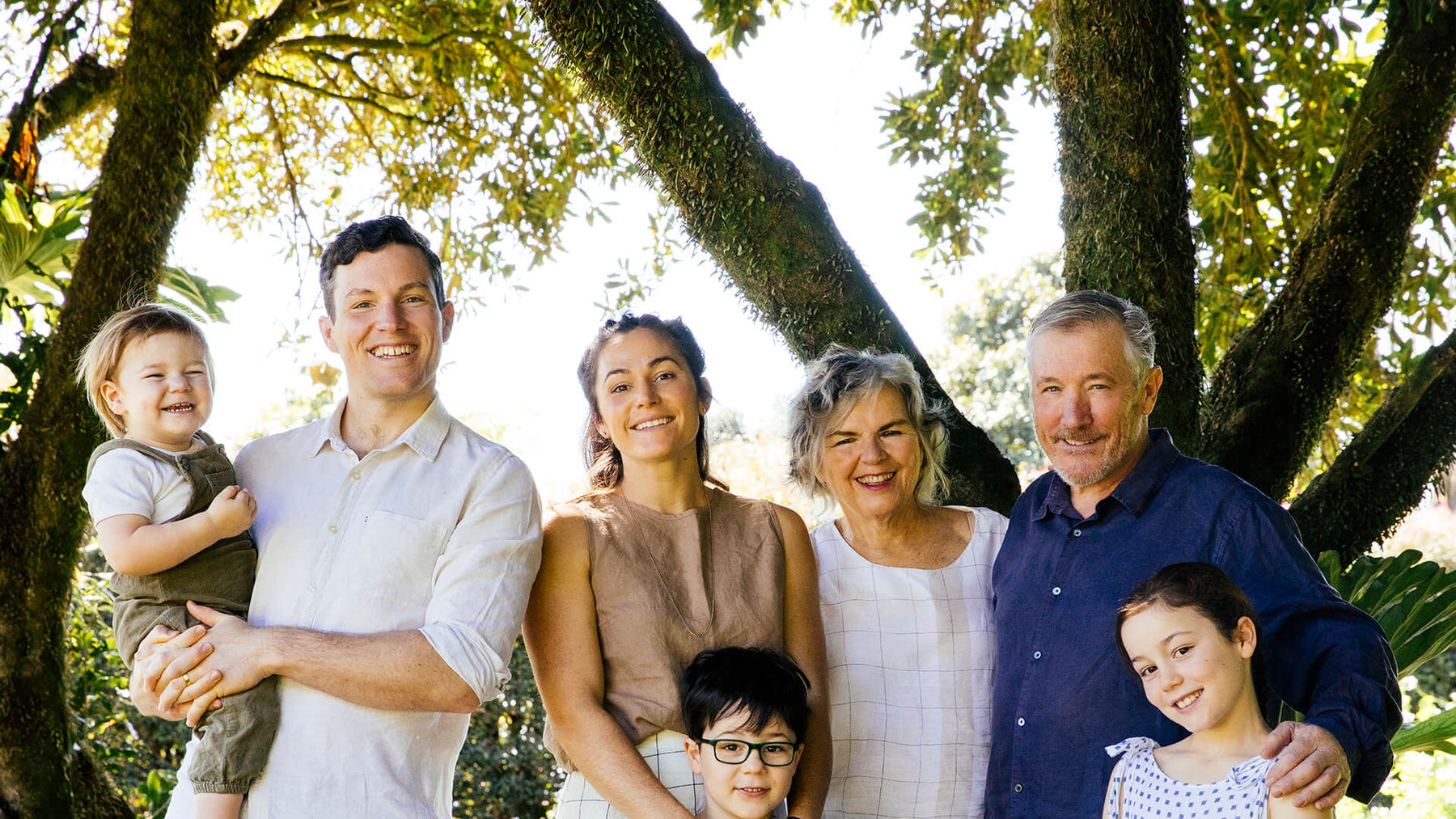 A Generational Family Business
Following almost 20 years at the helm, Brookfarm co founders Pam and Martin Brook have handed over the reins of CEO to their eldest son, Will Brook.
A wealth of experience
Will Brook has grown up in the business, literally. As a young boy, Will has worked in every part of the business from applying stickers to bags of muesli, sweeping the bakehouse floor to managing major sales accounts, to commissioning new state-of-the-art bakehouse equipment.
Will brings a wealth of experience to the role and is firmly focused on the future of the business.
Wisdom's never too far away
Despite the succession, Pam and Martin are never far from the action as ambassadors of Brookfarm.
Pam also leads the Brookfarm product development team (her unwavering passion) while Martin manages Brookfarm's diverse range of family interests in the Northern Rivers, including Brookfarm's continued participation in the growth of the Australian native foods industry.
Both Pam and Martin remain heavily involved in community and environmental initiatives, with Pam continuing as chairwoman of Northern Rivers Food, and Martin serving on the Northern Rivers Food marketing committee.
Martin also serves as Vice-President of Big Scrub Landcare – a cause which raises awareness and funding for the conservation of lowland subtropical rainforest in the once expansive Big Scrub area.
Driving success through sustainability
In 2015, Will drove the Brookfarm sustainability audit which was awarded the highly coveted NSW Premiers Award, culminating in Brookfarm being awarded the 2015 Green Globe Award for sustainability practices.
Will was then selected to participate in the Prince of Wales Business and Sustainability program, and continues to drive the importance of environmental practices both at Brookfarm and through his many public speaking engagements.
People before profit 
As a generational family business, Brookfarm puts people before profit, and has provided employment opportunities to hundreds of individuals in the local Northern Rivers (NSW) community (and around Australia) over its journey.
But Brookfarm's definition of family is so much broader than that of just the Brooks.
'Brookfarm is truly a family business,' said Will Brook.
'Not just our family, the Brook family, but the hundreds of families that have worked with us throughout our journey. We have all grown up together.'
'Now I have children of my own, Eva and Noah, and my wife Jess and we are excited about the next 20 years and beyond, whilst always staying true to our core values.'
From small beginnings
Brookfarm has grown from a husband and wife team selling muesli at local markets to one of Australia's leading producers of premium macadamia based products.
It is the next 20 years of Brookfarm which is what excites Will and his team, many of whom have been with Brookfarm from the start.
With a brand built on healthy, nutritious and sustainably produced products at its core, the next few years will see a range of new Brookfarm product hit the shelves.
'Our Keto Premium Paleo Granola is one of the most searched paleo breakfast cereals online, so we will be looking to continue to extend that range, and other dietary specific ranges, moving forward,' said Will.
We don't use any additives or preservatives, and we always receive such positive feedback from our customers around the diverse range of products we have, like our extensive gluten free range.'
'We are also exploring a range of products in the snacking space, and we also now have a sales executive team who specifically focusses on our strong Food Services offering, whilst our mix of Brookfarm sales executives and Distribution partners have really supported our growth.'
'At Brookfarm we are proud to create a consistently premium product experience. We are a values driven food manufacturer - with the environment, community, and real food at our core.'
'The future is exciting and there is a real buzz around our bakehouse, the farm and office at the moment.'