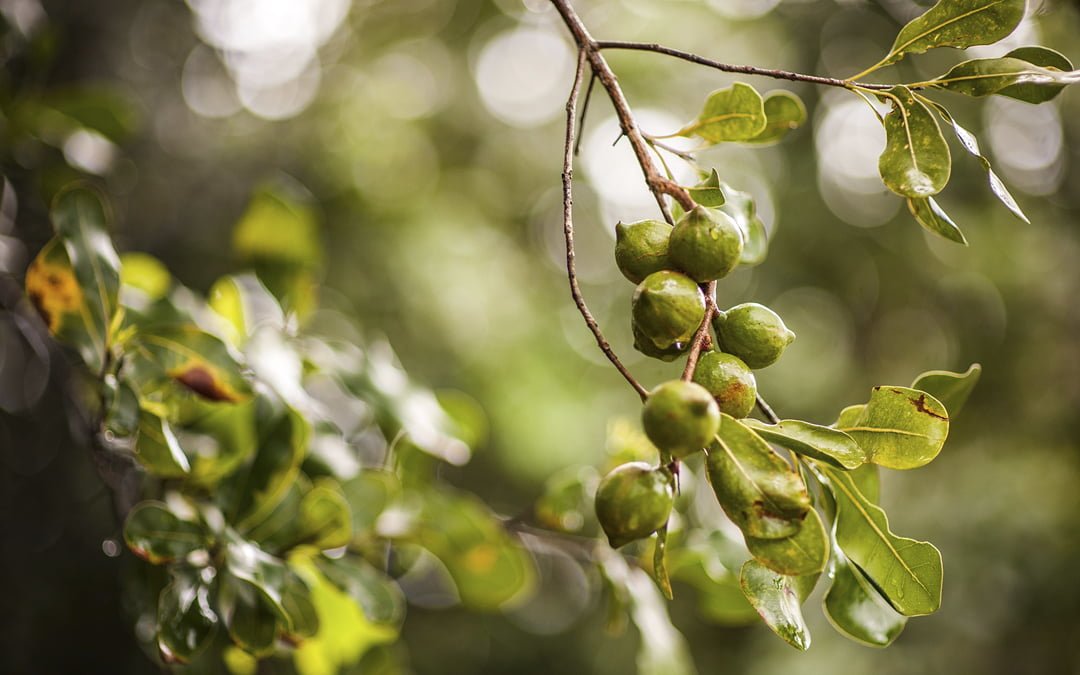 "It starts on the family farm…"
A simple sentence yet rich with meaning.
From the very beginning, our mission in creating quality, nutritious products has always been as important as our active role in sustainability, protecting the environment and engaging with communities.
You'll notice your favourite Brookfarm product includes a set of symbols on each pack. 
Environment. Community. Real Food.
These symbols are fundamental to Brookfarm. They inform every decision made and each direction we take. 
As part of the Brookfarm family, we know these values will ring true with you.
 Environment
Founders, Martin and Pam Brook have championed sustainability from the very beginning. An authentic respect for the environment and a dedication to lessening the company's environmental footprint forms the foundation of Brookfarm's business practices.
"Sustainability is what we do," says Pam. "It permeates through every facet of Brookfarm and has done since day one. It's just the natural, logical way to do things, if you care at all about the place we live."
 On the family farm in the Byron Bay hinterland, the Brook family has regenerated an ancient remnant of Big Scrub rainforest, planting over 35,000 new rainforest and eucalyptus trees to create a haven for native wildlife. We use natural farming practices in our macadamia plantation and only source ingredients from farmers who employ sustainable farming practices.
"You're a custodian of the land. Your land should benefit from your farming, not the other way round. We really take that approach on, to be custodians not takers," says Will Brook, Brookfarm CEO.
Complementing these practices is a no food waste policy, the Byron Bay sunshine to power Brookfarm's Bakehouse, the design of the building, processes, right down to the way the floors are cleaned.
We focus on natural sustainable farming practises including trichogramma wasps for natural pest eradication and solar panels on our Bakehouse in Byron Bay.
Acknowledging its sustainable ethos, Brookfarm has scooped several  Environmental Awards including the 2015 Premier's Award for Environmental Excellence in the annual Green Globes awards, as well as taking out the Small Business Sustainability category.
As with many perishable food producers, food safety and industry regulated packaging can be a challenge in ensuring freshness and shelf life whilst striving for sustainable options. We are working tirelessly with our packaging partners to look at packaging technology and end of life packaging repurposing opportunities. Our world first sustainable Roll 'N' Recycle pouch is a triumph for Australian packaging innovation.
Community
We are first and foremost farmers, from the Northern Rivers community which we began and grown. We are passionate about returning support to our community. 
 This means contributing to and supporting rural and regional Australia by creating real jobs, opportunities and helping our local people.
It means being a part of Northern Rivers Food – a not for profit food group, passionate about showcasing "paddock to the plate" growers, suppliers, farmers, established and emerging businesses in the Northern Rivers.
We are passionate about giving back and supporting our community, through feeding and helping to raise funds for those in need. We support The Big Scrub Landcare project to help protect and regenerate rainforests, as well as local food pantries, initiatives, local events, not-for-profits, such as Bunjum Aboriginal Corporation, Liberation Larder, Rainforest Rescue, Sea Shepherd, and Byron Writers Festival. 
Real Food
Brookfarm was born from a dream, to move to the country and a passion for quality, healthy, real food. It's ongoing commitment to sourcing ingredients from only sustainable farms, using only the best ingredients mean quality is never compromised.
With a focus on strong growth in the international export market particularly Asia Pacific, Brookfarm remains dedicated to its roots as an Australian brand, particularly the Northern Rivers of NSW and its rich soils in which they grow. It's the unique qualities of the immediate environment – the sea, the sand and the lush hinterland – which allows Brookfarm to create real food products that people can eat every day.
"We are proud of the local families who have worked within our business over the past 20 odd years and the strong bond with the local community that Brookfarm has been able to foster over our journey," says Pam.
"We still feel the same excitement as we did when we drove out the driveway all those years ago to start and bake our first batches of muesli to take to the markets," Pam says.
And therein, lies the Brookfarm ethos. It all started on the family farm, and continues to this day, with a commitment to:
Environment. Community. Real Food.