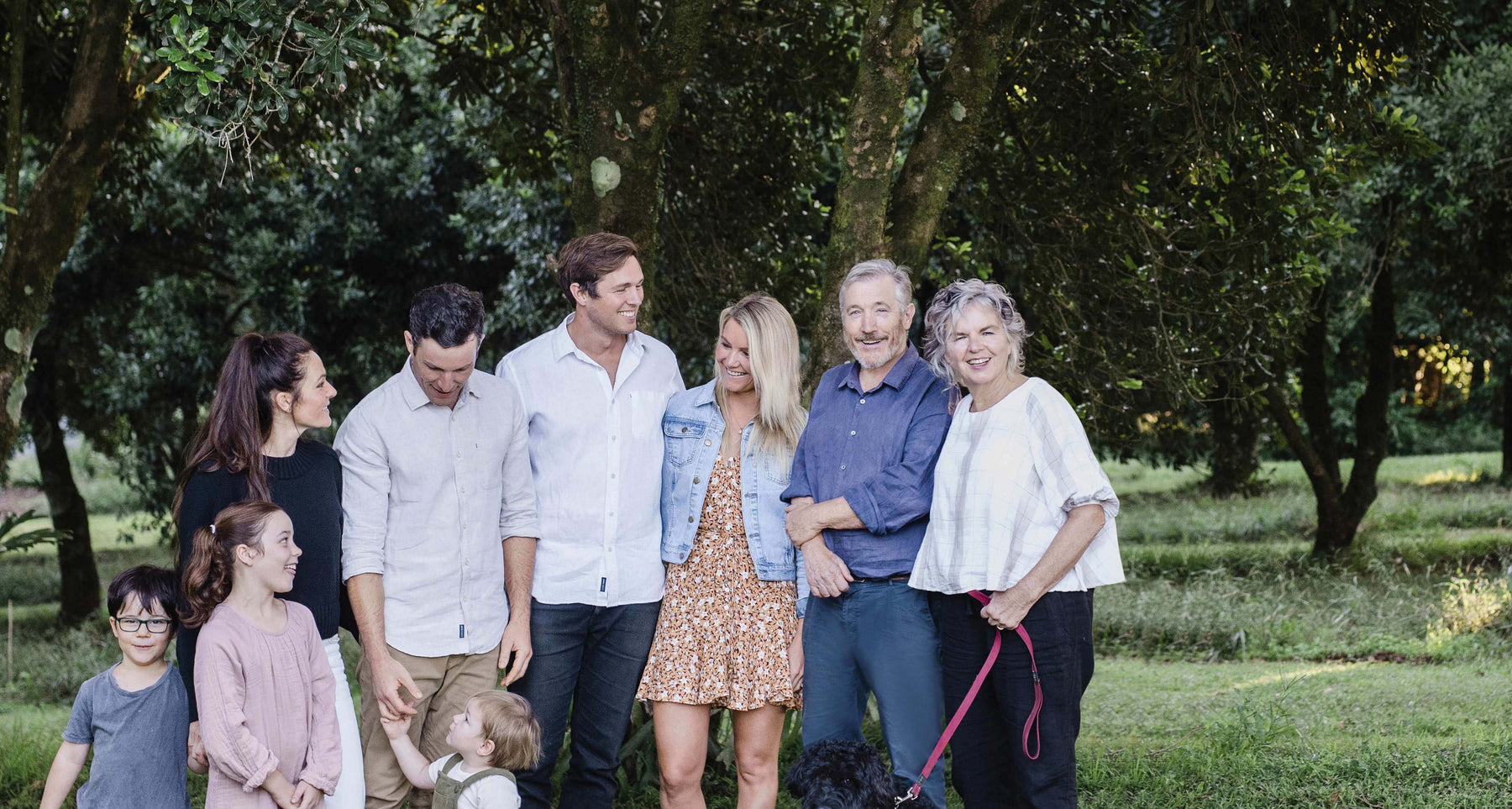 Natural Instinct – Country Style Mag Excerpt
WORDS BY PENNY CARROLL & PHOTOGRAPHY BY HANNAH PUECHMARIN
A driving passion for good health in all its forms is at the heart of Pam Brook's journey from dentist to regenerative farmer to cookbook author. 
ON ANY GIVEN MORNING you'll find Pam Brook and her husband, Martin, walking through the rainforest on their macadamia farm, enjoying the cool green foliage, the tinkling creek and the bird calls. "It's a really peaceful place and it gives a great sense of calm and grounding," says Pam of their property in McLeods Shoot in the NSW Northern Rivers region. 
It's the kind of nourishing practice that energises Pam, 67, for her busy life as an entrepreneur, farmer, health advocate and cookbook author. It's also a gratifying reminder of how much they've achieved. When Pam and Martin, 71, bought the 39-hectare Byron Bay hinterland property in 1988, it was a run-down dairy farm with barely a leaf to shade its bare hills. Now those hills are alive with macadamia trees, eucalypts and thick rainforest that offers a home to a diverse array of wildlife, from koalas and platypus to barn owls and native bees. 
The couple were Melbourne-based urbanites back then – Pam had her own dentist practice, while Martin worked in film and TV production. They bought the property sight-unseen, keen to shake up their lives with a new adventure in macadamia farming. Then a weed notice from the local council spurred them into learning how to regenerate the land. "For the health of the land, we wanted to plant trees in the areas where it was too steep to plant macadamias," Pam explains. 
They selected rainforest plants after learning the Byron Bay hinterland was once part of the Big Scrub, the largest expanse of subtropical rainforest in Australia, which was systematically cleared by European settlers in the 1900s. 
In those early days, they made regular trips up from Melbourne with their two young children, Will and Eddie, to plant 4500 macadamias and 35,000 rainforest species. "You think, 'How long are these plants going to take to grow?', and it's like watching children grow," says Pam. "All of a sudden they're three years old and 10 metres tall!" 
Their plan to make the farm their permanent home was delayed by 'the recession Australia had to have', but in 1999, the family moved to McLeods Shoot for good. They began to explore sustainable farming practices that harnessed the biodiversity they'd recreated. "It started off as rainforest regeneration, then we gradually learned all about how the bugs and animals that live in the rainforest also help maintain a healthy farm," Pam explains. 
Resident owls and snakes keep rat numbers down, while flowering ground-cover plants between the macadamias 
attract beneficial insects for pollination while keeping pests at bay. "It really comes home to you how important it is to farm responsibly because your family's health is dependent on what surrounds it," Pam explains. "And if you live on a working farm, then I think you have a responsibility to the people you grow the product for, and to your own family, to grow well and to look after the land."
Pam and Martin also had a vision for a food business showcasing our native nut. "We wanted to put macadamias in things that would make a difference to people's health and nutrition every day," says Pam. "I'd been a dentist for 25 years and I'd done all the things I wanted to do. I always wanted to make things – my father was in the rag trade – so the idea of creating food that you share with hundreds of thousands of people is really quite exciting." 
They began selling gourmet mueslis and macadamia oil at the local farmers' market under the label Brookfarm, and business flourished – 20 years on, the brand offers natural snacks, muesli, granola and nut blends, and supports a team of 65. Meanwhile, their children are still connected to the orchard they helped plant: Will, 35, is the CEO of Brookfarm, while Eddie, 32, has diversified the business with Cape Byron Distillery, which uses the farm's macadamias and rainforest botanicals to flavour spirits. 
With their sons committed to continuing the family legacy, Pam and Martin are now embracing other pursuits. Pam still looks after product development for Brookfarm, but she's also channelled her lifelong passion for health into a cookbook, We Can All Eat That!, a collection of meals that families can enjoy together, while introducing young children to a variety of foods to prevent allergies. "What goes in your mouth really affects not only the health of your teeth, but your body, too. Being a dentist drummed that one home for me," she says. "And I wanted to get families to eat as families again. It helps kids grow up with good nutrition and it grounds you as well." 
It's a ritual she enjoys with her grandchildren – Eva, seven, Noah, five, and Cassius, two – who come over for dinner every week so their parents, Will and Jess, can have a date night. Beyond the "chaos and pandemonium" they create in the kitchen, Pam and Martin love sharing their knowledge with the next generation. "We want to pass on to our grandchildren the love of nature and good farming practices," Pam says. "They love that, and we do, too." We Can All Eat That! ($39.99, Hardie Grant) is out now. For more on Brookfarm, visit brookfarm.com.au. For more on Cape Byron Distillery, visit capebyrondistillery.com.
Original article found in Country Style Mag Spring 2021