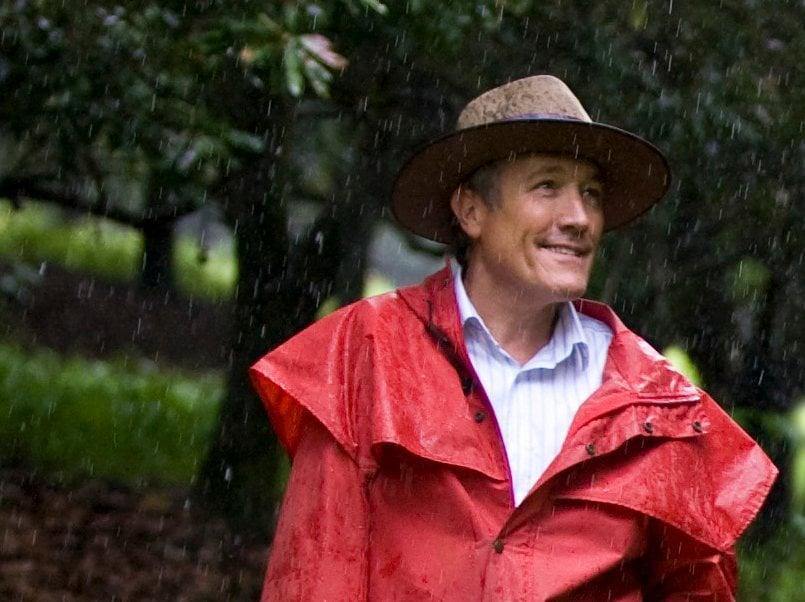 The untapped natural value and variety of macadamias
When Martin Brook swapped being a TV producer for growing macadamias and restoring a subtropical rainforest, he never imagined his family farm and bakehouse in Byron Bay would produce 32,000 tonnes of food a week while showing how "Natural Value" can also align with business success.
"It was love at first bite. She was my dentist." So says Brookfarm founder Martin Brook of the moment he met the medical professional from Melbourne who would later become his wife and mother of their two sons. What he didn't know back then, however, was that eventually they would be feeding Australia and the world, all while restoring their local environment amid a subtropical rainforest in Byron Bay. "We've always been foodies," Brook, a former film and TV producer, says today. "Pam is a great cook and to this day the vast number of the 44 products we produce come from her." After emigrating Down Under and working on shows like Prisoner, by the late 1980s the Brooks were looking for a sea change to raise their young boys Will and Eddie. A tip-off from a producer friend led them to Byron where they bought an old dairy farm on a hill. The rolling green of the surrounds reminded Brook of his native Devon – just with better weather. But at the time the property itself was a degraded landscape covered in boulders and lantana. So in 1989, the Brooks set about planting the thousands of native macadamia trees that would form the core of the family's business. Today the farm is set among 45,000 trees teeming with wildlife including echidnas, koalas, wallabies and platypus, all while sustaining a business that produces 32,000 tonnes of macadamia-based product each week, manufactured on site. With a staff of almost 60, Brookfarm exports 20% of its produce, which includes premium mueslis, nuts and oils, to markets throughout Asia, the US and Europe. They also supply to Qantas nationally and internationally for business and first class passengers. "Sustainability is a critical part of our business," Brook says. "It comes from the way we actually farm and the way we minimise our carbon footprint." Brookfarm have adopted a number of environmental innovations. They harness the hunting skills and appetites of local owls to eat rats and mice. "Mr and Mrs Owl and a couple of their kids will eat between 1000 and 1200 rats and mice a year," Brook says. A breed of wasp also keeps the macadamia-destroying nut borer beetle at bay, and bees are used to pollinate the trees. "We are also doing this (integrated pest management) throughout with all sorts of bugs. It's made a huge difference and our soil quality has improved." The onsite bakehouse has 289 solar panels on the roof, which provide enough electricity to power 35 homes, while the rainwater runoff is captured and stored in underground reservoirs to irrigate rainforest gardens. As well as preserving "natural capital", the changes have had the added benefit of a 30% saving in fuel bills over the past year. The green efforts at Brookfarm have netted a Premier's Award for Environmental Innovation in 2015 and the business is currently working towards Gold recognition under the NSW Government's Sustainability Advantage program. Brookfarm has previously won the Telstra Australian Business of the Year Award in 2007 and the National Australia Bank's Best Rural Enterprise Award in 2010. "The farm has changed us from being people who have built their life in a city to being passionately involved in the importance of biodiversity and a new way of looking at farming," Brook says. Brookfarm has proven that farmers can have a healthy commercial crop while still planting native trees and living in a sustainable environment. During the decade it took to grow their first commercial crop of macadamias, the Brooks decided to take the risk of creating a value-added product on site rather than sell the nut as an export commodity. Brook's advice today is to take the same sort of a calculated bet on something you believe in and have the persistence to see it through. As a NAB customer, the bank supports his vision for protecting the "Natural Value" of an environment. "They have taken time to understand our business and that we are a little bit different," Brook says. "You've got to have the people come to share your beliefs and values. "With the pressure of climate change is the realisation that each and every one of us has to play a part for our future and we have to become more responsible and do the right thing. We don't have a lot of time to sort this out, so we have to get cracking."
"The message is that Natural Value is becoming increasingly important as the population grows. It needs to be managed with the same diligence as financial capital. NAB is to date the only Australian bank to sign the Natural Capital Declaration of December 2011, a global statement that recognises that natural capital poses significant potential risks and opportunities to the finance sector. The bank is working with agribusinesses like Brookfarm as part of an integration of natural capital considerations into its day-to-day decision making processes and risk assessments. Brook says the farm has been a family business from the start, with their boys rising early to help at the local markets on cold winter mornings and with the labelling after finishing their homework. Inspiration for their first muesli recipe came from Pam's father Mick Hull, a champion Victorian skier who made his own blend that kept him heading up the mountain into his 80s. Now grown up, the boys still work in the business: Will, 30, is production manager, while Eddie, 27, is in sales and marketing. "It's all about believing in the product and setting ethical goals from the start and sticking to them."         Source - This article first appeared on The Guardian Australia