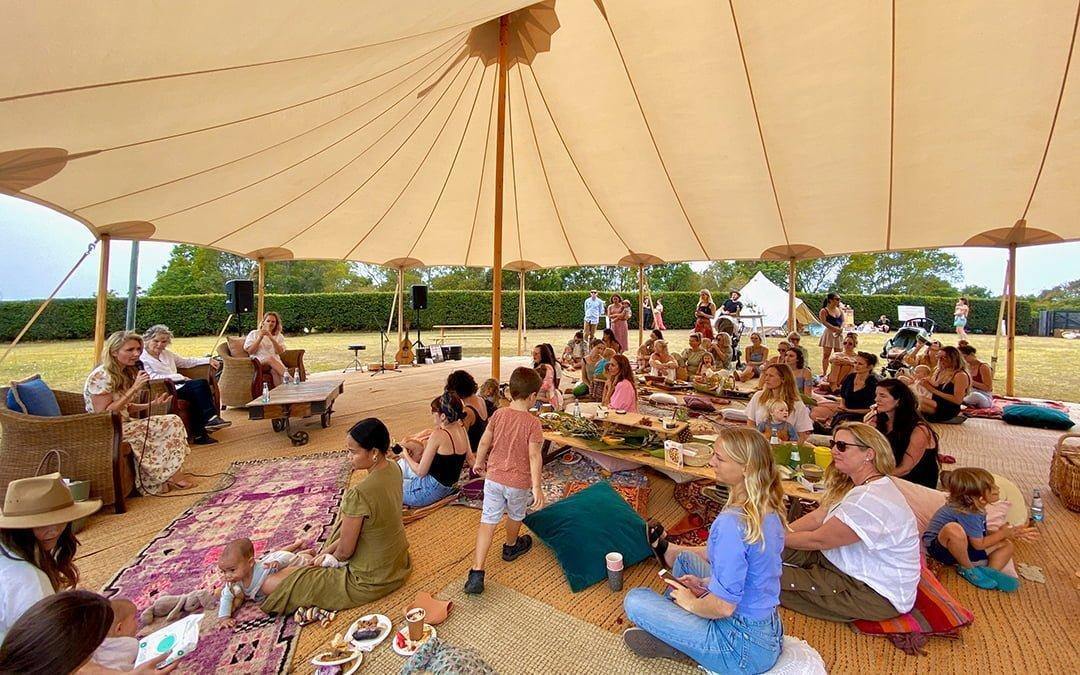 Byron Hinterland in Bloom with Brookfarm
Brookfarm's new organic baby cereal was officially launched at the Brook family's macadamia orchard in the Byron Bay hinterland on Wednesday.
The launch, hosted by author and TV personality Magdalena Roze, attracted over 70 local parents and their bubs, who came together to discuss Raising Healthy Kids.
Magdalena Roze hosted a panel discussion with Brookfarm's co-founder Pam Brook and Spell & the Gypsy Collective's co-founder Lizzy Abegg.
In what was at times a spirited and amusing discussion, Pam Brook, the creator of Brookfarm Bloom, said that the motivation to create a multi-ingredient organic wholefood product for babies was driven by what she had discovered in the market when looking for product to feed her grandchildren.
"As adults, we don't eat single ingredient foods, so why should our children? Bloom introduces well balanced flavours in the right way and is a product that will help to build a babies' palate".
"Bloom is made from real food, ground fine – the way it used to be before food became overly processed," said Pam.
The Brookfarm Bloom organic cereal range also introduces tree nuts to children in small quantities and is the first breakfast cereal for infants to do so.
Lizzy Abegg had the gathering in fits of laughter and nodding heads when asked by Magdalena Roze about how she finds 'balance' in running one of the most successful fashion houses in Australia and raising 3 young children with her husband.
"Balance… I'm pretty sure balance doesn't exist!! We just ride the ups and downs – it's natural. We come together every night for dinner at 5pm around our kitchen table, and it's our time to enjoy being a family and being grateful for our day," reflected Lizzy.
Brookfarm is proud to produce real food, sourced from farms that practice sustainable farming. Our premium organic baby cereal is made with the same care and quality that we have been known for for the past two decades.
A special thanks from the whole Brookfarm team to everyone who made this day so special.
@magdalena_roze @spell @lizzyabegg @olliella @fairyfolkbyronbay @thepicnicportal @sippinstant @maydetea @lovemaestudio @mountwarningspringwater @sperrytentsaustralia @_pikt @pattierneymusic @churchfarmgeneralstore @halcyondaze_swimwear @seabonesbyronbay @taninaka.san