Gluten Free Dark Chocolate Brownie
TIME
Prep 20 mins. Bake time 40mins.
CREATED BY
Zoe and Ian from Crabbes Creek Catering
SUMMARY
A decadent chocolatey brownie that is sure to fly off the plate! Created by the wonderful Zoe and Ian at Crabbes Creek Catering this dark chocolate gluten free delight is complimented by our award winning Brothers Blend Entertainer filled with macadamias, pecans, almonds, walnuts, pistachios and hazelnuts.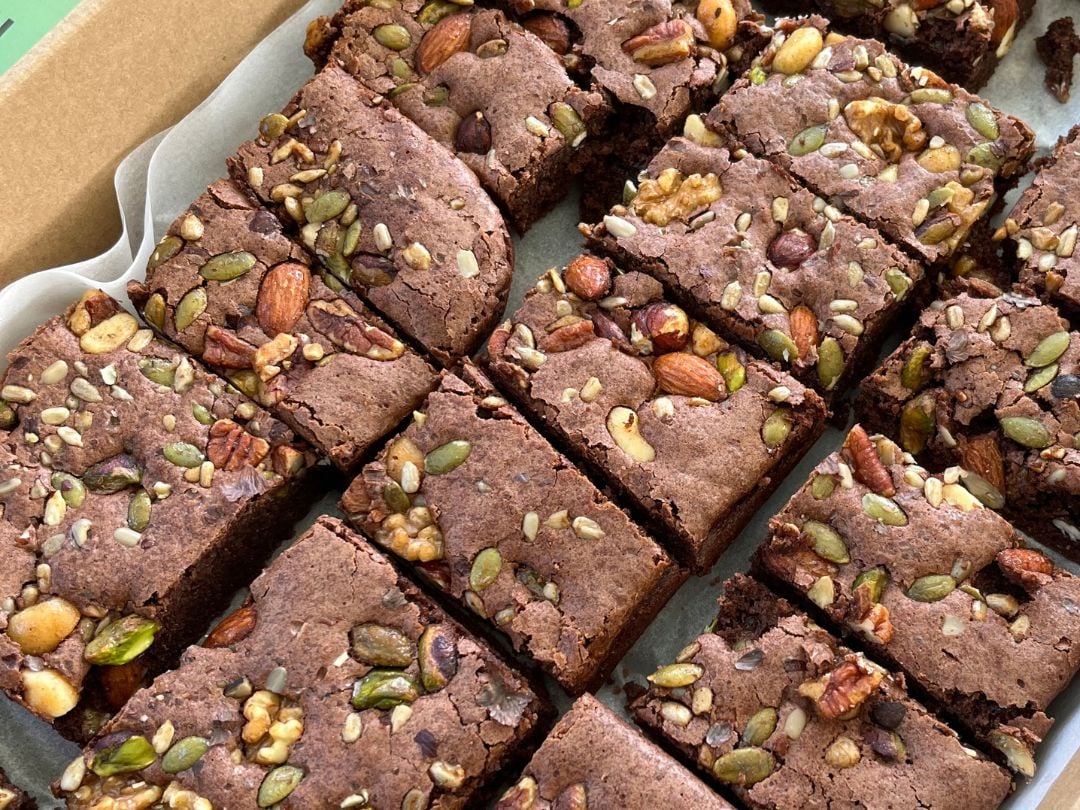 Ingredients
6 Whole Free Range Eggs

200gm Caster Sugar (or equivalent sugar replacement)

250gm Almond Meal

250gm unsalted Butter, chopped

250gm Dark Chocolate, chopped

40gm Cocoa Powder
Method
Preheat oven to 160 C
Prepare a lined and greased rectangle or square baking tin, approx 25x35cms.
In a stand mixer, beat eggs on high until pale and fluffy.
Slowly pour in caster sugar, mix for a further 5 mins.
In a microwave proof bowl, melt the chopped chocolate & butter in 30 second intervals, swirling in between, so the chocolate doesn't burn. Alternatively melt and mix over a double boiler.
In a large mixing bowl add the almond meal and sifted cocoa.
Stir in the melted chocolate & butter.
Once incorporated, add in the egg & sugar mixture 1/3 at a time, folding fairly gently. Add a pinch of sea salt.
Pour into a lined and greased baking tin.
Scatter over Brothers Blend Entertainer mix.
Bake for 40mins total, with a turn half way through time Check at 35mins Cool in tin
Put tin, covered in the fridge for at min 2 hours or overnight. This will firm it up, and make it easier to slice.
Slice 5 x 3 (15 pieces). Use a sharp knife, and clean the blade in between cutting the lines.
Eat anytime, anywhere! Or for a really decadent dessert, re warm the individual portions, and serve with ice cream of gelato of choice.