Yellow Curry of Shark
TIME
Prep Time: 10 min  |  Cook Time: 20 min
CREATED BY
SUMMARY
This recipe has been created by the amazing Chef Sam Gowing. Here's what she has to say about it: "Our native ingredients are exceptionally medicinal and complement our robust, innovative Australian cuisine beautifully. This recipe has been designed to incorporate local ingredients, produce and support suppliers of the Northern Rivers region".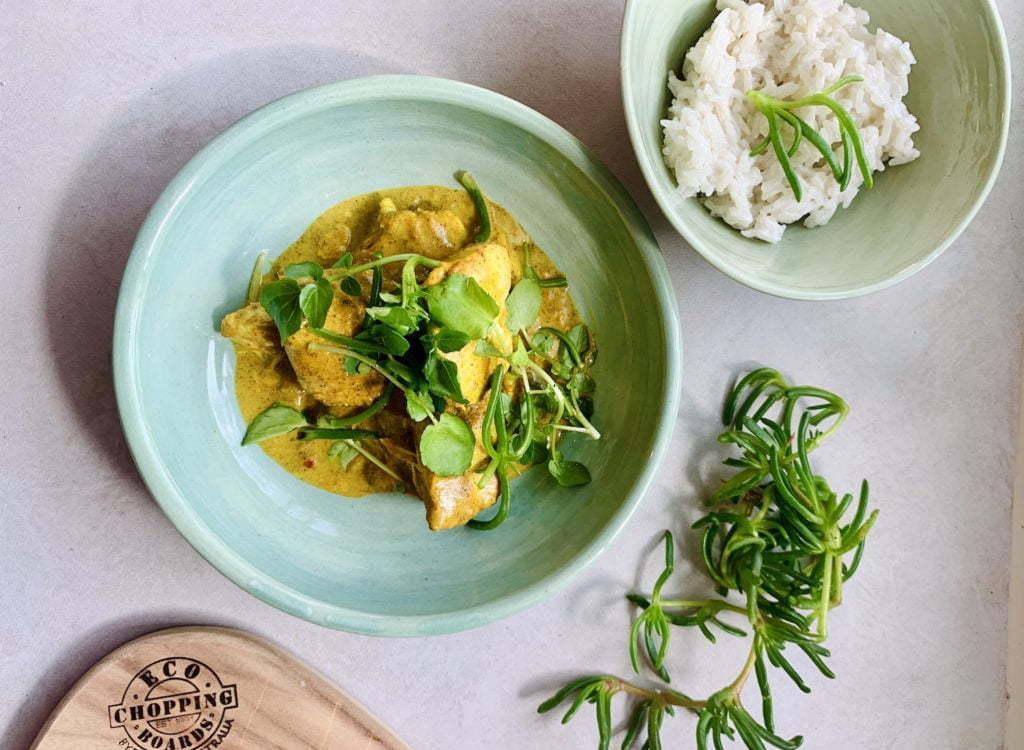 Made with local Northern Rivers ingredients
Ingredients
1 tablespoon Premium Macadamia Oil
2 cloves garlic, peeled, finely chopped
1 x 2cm piece ginger, peeled, grated
1 stalk lemongrass, trimmed, bruised
6 curry leaves
400 grams shark or other firm white flesh fish
175 g yellow curry paste or a blend – I used Zest Yellow Curry Blend
200 ml / ½ can coconut milk or cream (save other half for the rice)
1 x 1 cm piece turmeric, peeled, grated
To serve:
Watercress
Native greens
Method
In a large heavy based saucepan, heat oil.
Add cloves garlic and ginger, sauté until lightly browned.
Add lemongrass, heat a little to release essential oil and become more fragrant.
Add fish, sear lightly on each side.
Add yellow curry blend and coconut milk or cream. Add turmeric.
Add curry leaves, reduce heat and simmer gently for about 20 minutes on a low heat. Set aside and keep warm.
Serve with coconut rice, watercress and native greens.