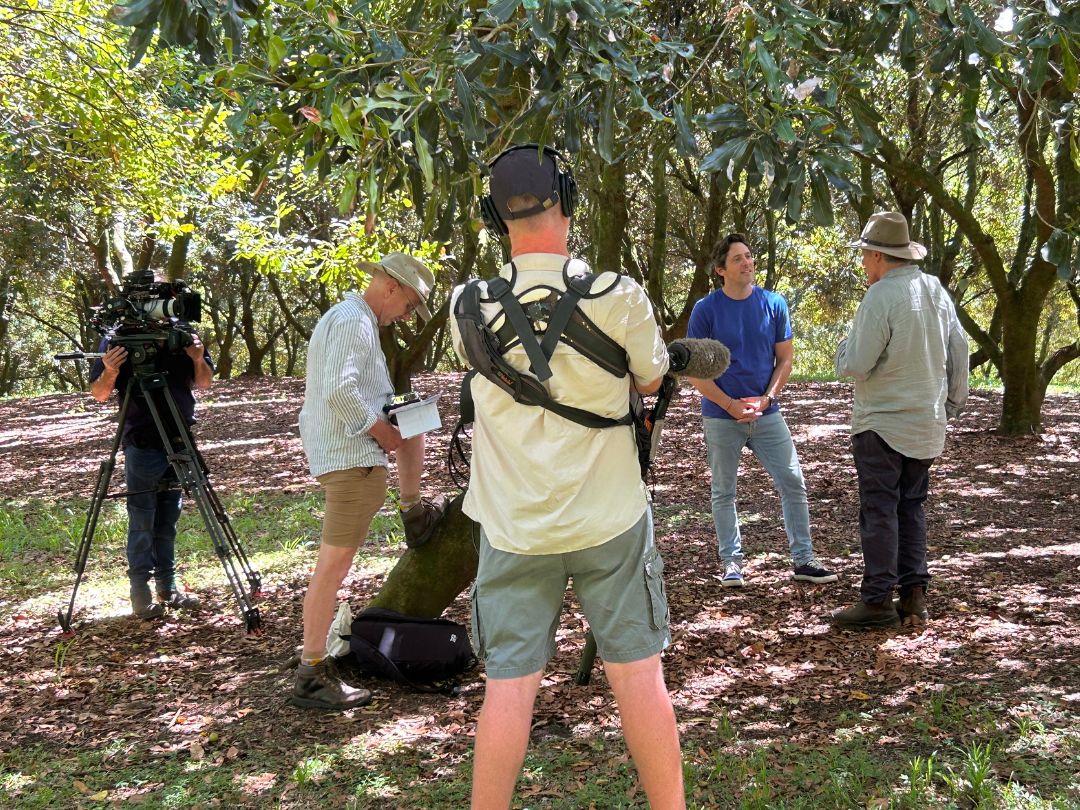 Better Homes & Gardens visits the Brook family farm!
Charlie Albone, Garden Expert at Better Homes & Gardens chatted all about macadamias, rainforest restoration, regenerative farming and native ingredients with Martin, Pam & Will Brook, co-founders and CEO of Brookfarm. With special drop in by Kirsten Ellis, SCU Centre for Organics Research.
Transcript:
Charlie: One of the best things about gardening is enjoying the fruits of your labour. Or in the case of Brookfarm, the nuts of your labour. This little slice of paradise is a family farm, just outside of Byron Bay. And 30 years on the business has grown to a state the family could never imagined. 
Yet they have stayed true to their principles of sustainability, and looking after the land that provides for them. 
Charlie: Martin!
Martin: Charlie...
Charlie: This place is absolutely fantastic, up in here, in the macadamias, it's stunning. 
Martin: It's beautiful, isn't it. 
Charlie: So how did you get into planting these beautiful macadamias?
Martin: Do you know what, we came from Melbourne, and we knew nothing about farming. I'm talking absolutely nothing. But we were looking for a bit of a sea change. So we bought the farm. And it was a really, really sad, run-down dairy farm. 
Charlie: So how did you end up with such a beautiful macadamia farm?
Martin: What prompted us was getting a notice from the council, a weeds notice. Saying "If you don't clear out the weeds on this property, we're going to prosecute you."
Charlie: Wow...
Martin: So we cleared it. Planted 4,500 macadamias. 
Charlie: It is an amazing feeling under these macadamias. Because it is a farm, you are producing something. But look at these staghorns and elkhorns on the trees. All these amazing plants. It's absolutely stunning. 
Martin: Well it is a rainforest tree, of course, the macadamia. 
Charlie: Of course.
Martin: So when you have all this wonderful stuff growing on the trees, this is what happens in the rainforest. 
Charlie: Can we have a look at the rest of the farm?
Martin: Of course...
Charlie: So Brookie, this part of the farm looks very different from the last part you showed me. Forgotten to mow here?
Martin: It does look like a bit of a mess, I'll give you that. But what we're endeavouring here is to create an insectary. And within that insectary of good bugs, that actually go after the nasty ones. 
Charlie: So what sort of insects are we looking of bringing in here?
Martin: This is Kirsten, who is actually helping us.
Charlie: You're the Bug Lady I've been told.
Kirsten: Yeah, that's my nickname, ah yes. So what I do as the bug lady, is I like to create bug wards. So it's the good old Colosseum. The bad guys are the plant eaters or the vegetarians. And the good guys are the meat eaters. 
So the macadamia flowers there, lace bugs love it. They come in and they start breeding up really quickly. We actually want to get there, with the predators, in really big numbers, and stay on top of them that way. Instead of needing to come in and spray.
Charlie: And what can the home gardener do, to replicate this?
Kirsten: I think honestly, let some of the weeds grow. Like right here we've got cobbler's pegs, which is considered a very nasty weed for farmers. But they're actually a really fantastic host for some of the predatory insects. 
So really let biodiversity build up. Don't be afraid of having some pests in your home garden, because that will actually encourage the natural predators to come in as well.
Charlie: One of Martin's proudest achievements is the rainforest his family is regenerating. Restoring the balance to let nature do what it does best. 
Charlie: Hey Will, how you going?
Will: Hey Charlie, how are things.
Charlie: This rainforest is absolutely spectacular. 
Will: It's pretty stunning. It's quite a unique and special place that we've got here. 
Charlie: Do you remember planting this out?
Will: The main thing I remember is the weeding. It was just covered in lantana, with privet. And it's something that still gives me chills now, just to imagine what... well not imagine...remember what it was like, and then looking at the place that we created now. 
Martin: This rainforest is home now to so many birds, so many animals. 
Charlie: And do the birds help with the macadamias?
Will: Oh absolutely. I mean, walking around any macadamia farm you can see, damage by one of the biggest pests we have - rats. And they can chew through a macadamia in seconds flat. And owls love rats, and the rainforest is the perfect place to be breeding up owls, to be breeding up snakes, to be naturally looking after those nasties. 
Charlie: Do you harvest any of the fruits in the rainforest?
Will: Yeah, there's one specific tree, that is the Davidson Plum, that we use in a couple of our products. We might actually show you what we've got.
Charlie: There's a look on your face that makes me slightly suspicious.
Will: Oh I'm looking forward to it.
Will: Right Charlie, I've got a native Davidson Plum, that is native to our specific area as well.
Charlie: I've always wanted to try one of these.
Will: They've got a little bit of punch.
Charlie: Mmph!
Will: They're a touch sour.
Beautiful in jams. We actually put them in a big vat of gin and make our slow gin. 
Charlie: Well, I like the sound of gin. Let's go have a taste of that.
Will: Shall we go?
Charlie: Yeah, I'll finish this on the way...
Will: Yeah, I'm sure...
Will: Charlie, this is mum - Pam.
Charlie: Hello Mum!
Pam: Lovely to meet you, Charlie!
Charlie: So I hear you create all the mueslis and stuff.
Pam: Yes, the mueslis, the granolas. These are my test dummies that I tried them out on.
Will: Breakfast, lunch and dinner.
Martin: We ate so much muesli.
Charlie: The most regular family in Byron.
Will: Yes, that's right.
Charlie: Well that's the beginning of the day. What is happening at the end of the day?
Pam: Oh the end of the day is perfect. So this is our Davidson Plum Slow Gin. Brookie's Byron Slow Gin. And it's made from the Davidson Plum that is native to the rainforest. And we sit those plums in gin for at least 12 months. 
Charlie: Oh it smells delicious. I was supposed to leave you guys, but I think I'm going to hang around and polish this off.
Will: That's alright...
Pam: Welcome to...
Charlie: Well, thanks for having me. Cheers!