Choc Chip Walnut Cookies
TIME
25 mins + 2 hrs to rise
CREATED BY
SUMMARY
With heart healthy walnuts and delicious dark chocolate, these yummy choc chip cookies are a great little snack to satisfy your afternoon cravings.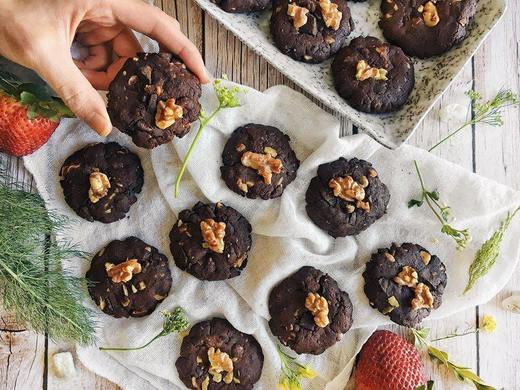 Healthy chocolate walnut cookies
Ingredients
3/4 cup buckwheat flour
1/3 cup coconut sugar
1/4 cup cocoa powder
1/2 tsp baking soda
1/2 tsp baking powder
1/4 tsp sea salt
1/4 cup chopped walnuts, plus more for topping
1/3 cup dark chocolate bits
3 tbsp Premium Macadamia Oil
4 tbsp almond milk, warmed
Method
Place the buckwheat flour, baking powder, baking soda and salt in a large bowl and whisk to combine.
Add choc bits to the flour mixture and stir well.
Place coconut sugar, cocoa powder, macadamia oil and warm milk in a seperate bowl and whisk until well combined.
Add the wet ingredients to the the dry ingredients and mix well, then fold in walnut pieces (the mixture should be sticky and not dry). Cover the bowl with plastic wrap and refrigerate the dough for 2 hours.
Preheat the oven to 180C.
Remove dough from the refrigerator and take roughly 2 tbsp at a time, roll into a ball and place onto a lined baking tray. Use your hand and flatten slightly. Repeat with the rest of the dough.
Top each cookie with more walnut pieces and bake for 10 to 12 minutes.
Let them cool on the pan for 5 minutes then place on a wire rack to cool completely.