Festive Cranberry Macadamia Chocolate Bark
CREATED BY
SUMMARY
Our Festive Chocolate Bark with cranberry and macadamia makes the perfect Christmas gift! Tie small stacks with ribbon for a delicious and easy gift your friends and family will love!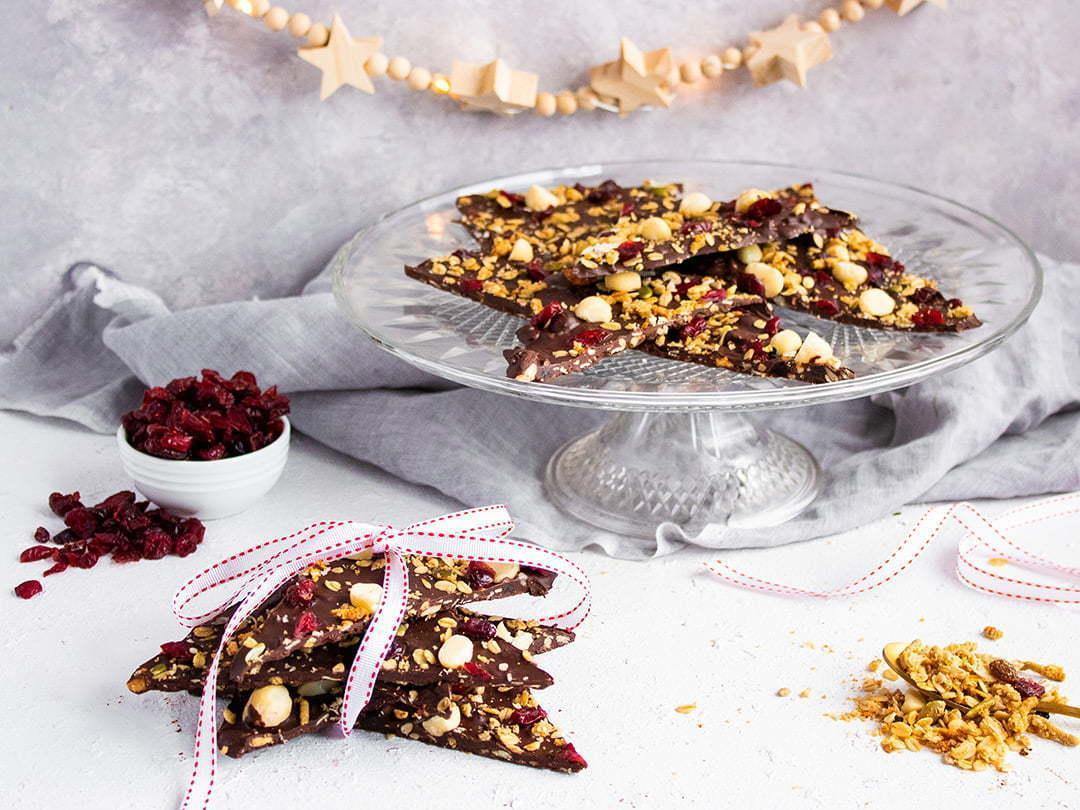 A delicious chocolatey treat
Ingredients
350g dark chocolate
1½ cups Toasted Muesli Macadamia Cranberry
(1 cup for cooking, ½ cup for topping)
⅓ cup macadamias, roughly chopped
⅓ cup dried cranberries
⅓ tsp salt flakes
Method
Line a tray with baking paper and set aside.
Fill a small saucepan with an inch of water and place over low heat.
Break the chocolate into small pieces and place into a heatproof bowl. Place the bowl over the pot, ensuring the base of the bowl does not touch the water. Stir the chocolate until melted.
Remove the bowl from the heat and stir through 1 cup of muesli.
Pour the chocolate mixture onto the lined baking tray and smooth out with a spoon.
Sprinkle the extra ½ cup of muesli, macadamias, cranberries and salt flakes over the top of chocolate.
Set in fridge for at least fifteen minutes to set.
Once set, cut into rough pieces and enjoy.
Store Chocolate Bark in an airtight container in the fridge for up to one week.