Lemon Curd Tarts
TIME
30 mins to make / 1 hr to set
CREATED BY
SUMMARY
A classic dessert with a Brookfarm spin. Sweet, tangy and delicious, these Lemon Curd Tarts are the perfect way to finish off your dinner party. So good, you'll be going back for seconds!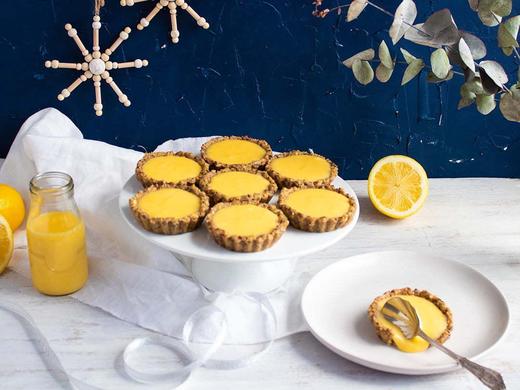 Our twist on a classic
Ingredients
Base
2 cups of Prebiotic Paleo Granola
70g butter
Curd:
1 tbs lemon zest, grated
¾ cup lemon juice
1 cup caster sugar
4 free range eggs
150g butter, sliced into cubes
Cooking oil spray
Method
Spray 9 small tart tins with the cooking spray until well-greased.
Blitz the granola in a high-speed food processor until a rough crumb forms. Add the butter and blitz until well combined.
Press the mixture into the tart tins and spread evenly on base and up sides to form the shell. Place tins onto a tray and into the freezer to harden for fifteen minutes.
To make the curd, add the eggs, sugar, lemon juice and zest into a medium sized saucepan and whisk until well combined.
Place the saucepan over low heat on the stove and whisk continuously for two minutes. Add in butter, a few pieces at a time whilst continually stirring.
Continue to whisk for 4-5 minutes until the curd has thickened and coats the back of a spoon. Pour the curd into a bowl and set aside.
Remove bases from the freezer and fill with lemon curd. Place the tarts into the fridge to set for one hour.
To serve, carefully remove tarts from the tart tins and place onto serving plates. Enjoy!
Store tarts in an airtight container in the fridge for up to five days.