Nutty Granola Chocolate Chip Cookies
SUMMARY
Oh how we love these Nutty Choc Chip Cookies. Made so simple with our Maple Vanilla Nutty Granola.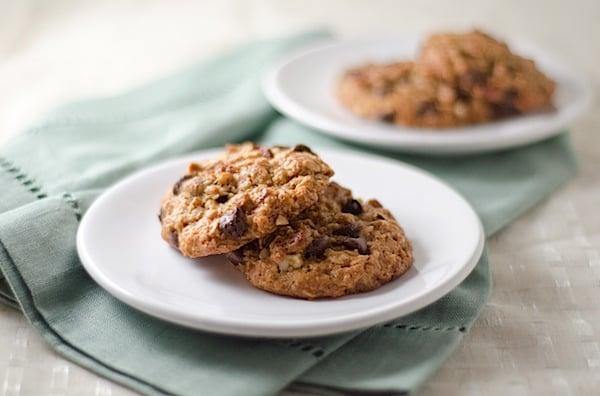 Nutty Chocolate Heaven
Ingredients
1 cup plain flour
1/2 tsp baking soda
1/2 tsp salt
1/2 cup unsalted butter, softened
1/3 cup packed light brown sugar
1/3 cup granulated sugar
1/2 tsp vanilla extract
1 large egg
1 cup Nutty Granola Maple Vanilla
3/4 cup chocolate chips
Method
Preheat oven to 190C.
Whisk together flour, baking soda and salt in a small bowl.
Beat together butter, sugars, and vanilla in a medium bowl with an electric mixer at high speed until pale and fluffy (about 3 minutes), then beat in egg until combined well.
Reduce speed to low then add flour mixture and mix until just combined. Stir in granola and chocolate chips.
Create 18 cookies (each cookie to be roughly 2 level tablespoons) and place 2 inches apart on baking tray. Flatten each cookie down slightly.
Bake for 10-12 minutes or until golden brown. Remove, cool and enjoy!