Raw Blueberry Cheesecakes
TIME
45 mins to make | 2 hrs to set
CREATED BY
SUMMARY
These delicious no-bake, mini blueberry cheesecakes make the perfect summer dessert! Made with our Prebiotic Paleo Granola for the base, they are vegan, gluten-free and a great single serve size.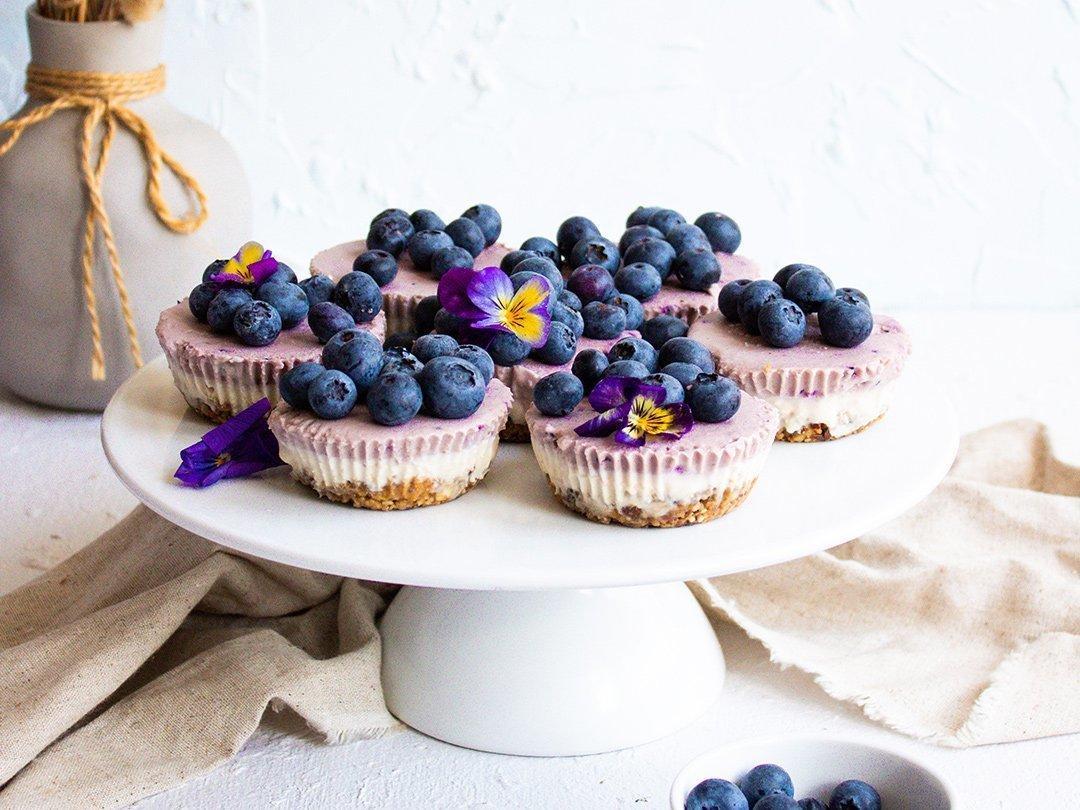 Raw, vegan & gluten free
Ingredients
Base
2 cups of Prebiotic Paleo Granola
1 tbs coconut oil
2 tbs nut butter
Filling
1 cup of coconut cream
1 + 1/2 cups cashews (soaked in water overnight)
1/2 cup coconut oil, melted
1/2 cup maple syrup
1 tsp vanilla extract
3 tbs lemon juice
2 punnets of blueberries
Method
Line a medium sized 12-hole muffin tin with muffin papers.
Place the ingredients for your base in a food processor, and blitz until combined.
Divide mixture and press firmly into the muffin cases.
Place the muffin tin in the freezer for 15 minutes for the base to set.
In a food processor, blend together all filling ingredients, except the blueberries, until very smooth and creamy.
Pour half of the filling mixture into a bowl for later. Blend the remaining filling with one of the punnets of blueberries.
Pour the white filling mixture over the bases, and place in the freezer to set for twenty minutes.
Once set, pour the blueberry filling on top of cheesecakes and place back in the freezer for two hours to set.
Remove the cheesecakes from the freezer ten minutes before serving to soften slightly. Un-mold from wrappers and place on plates. Top with the remaining punnet of fresh blueberries.