Wild Berry Pancakes
SUMMARY
Take your pancakes to the next level with the addition of our Wild Berry Granola. So good, you'll be craving these every weekend (or every day)!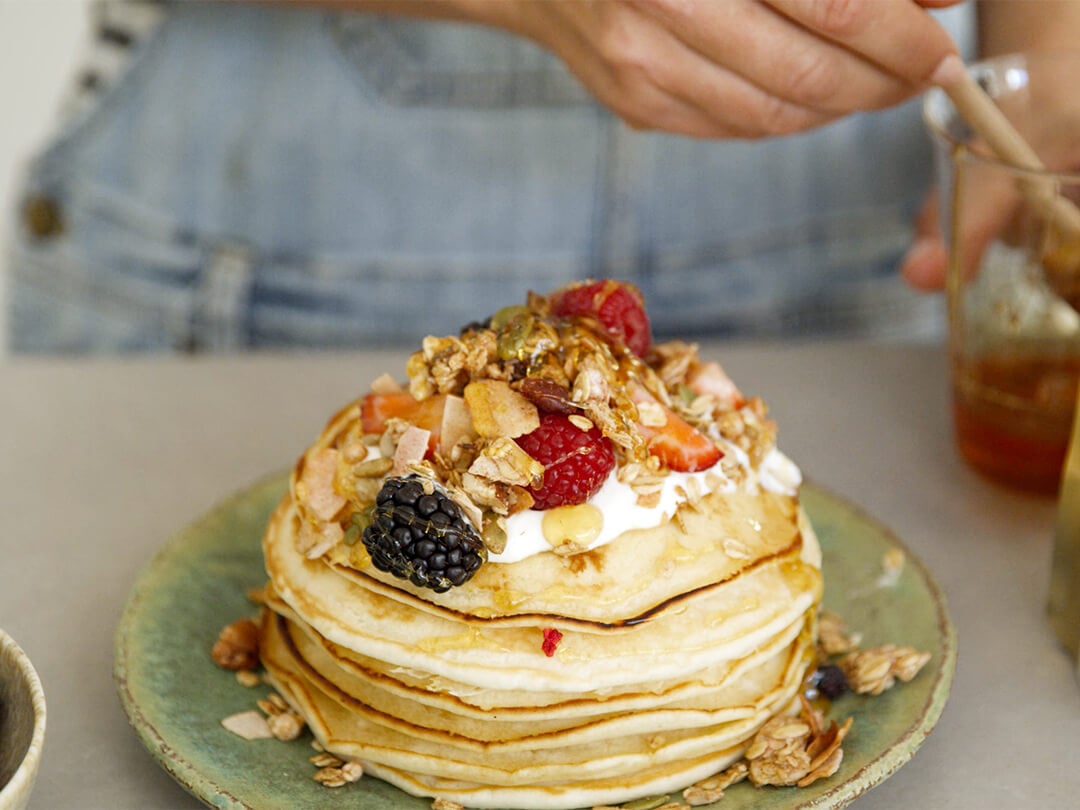 A wild berry stack
Ingredients
Pancakes:
1 1/2 cups milk
1 egg
2 tsp vanilla extract
2 cups self-raising flour
1/4 tsp bicarbonate Soda
1/3 cup caster sugar
25g butter, melted
Toppings:
Yoghurt
Mixed fresh berries
Maple syrup or honey
Method
Whisk together the milk, egg and vanilla in a jug.
Sift flour and bicarb into a large bowl, then stir in sugar. Make a well in the centre.
Slowly add the milk mixture into the well and whisk until just combined.
Heat a large non-stick frying pan over medium heat and brush pan with butter.
Pour 1/4 cup of pancake batter into the frying pan and cook until bubbles appear on the surface (3-4 minutes). Flip the pancake and cook on other side for a further 3 minutes or until cooked through.
Transfer cooked pancakes to a plate and cover with a tea towel to keep warm.
Repeat the above in batches until all batter has been used, brushing the pan with butter in between each batch.
Once cooked, stack the pancakes on a plate and top with yoghurt, berries, granola and a drizzle of maple syrup/honey.