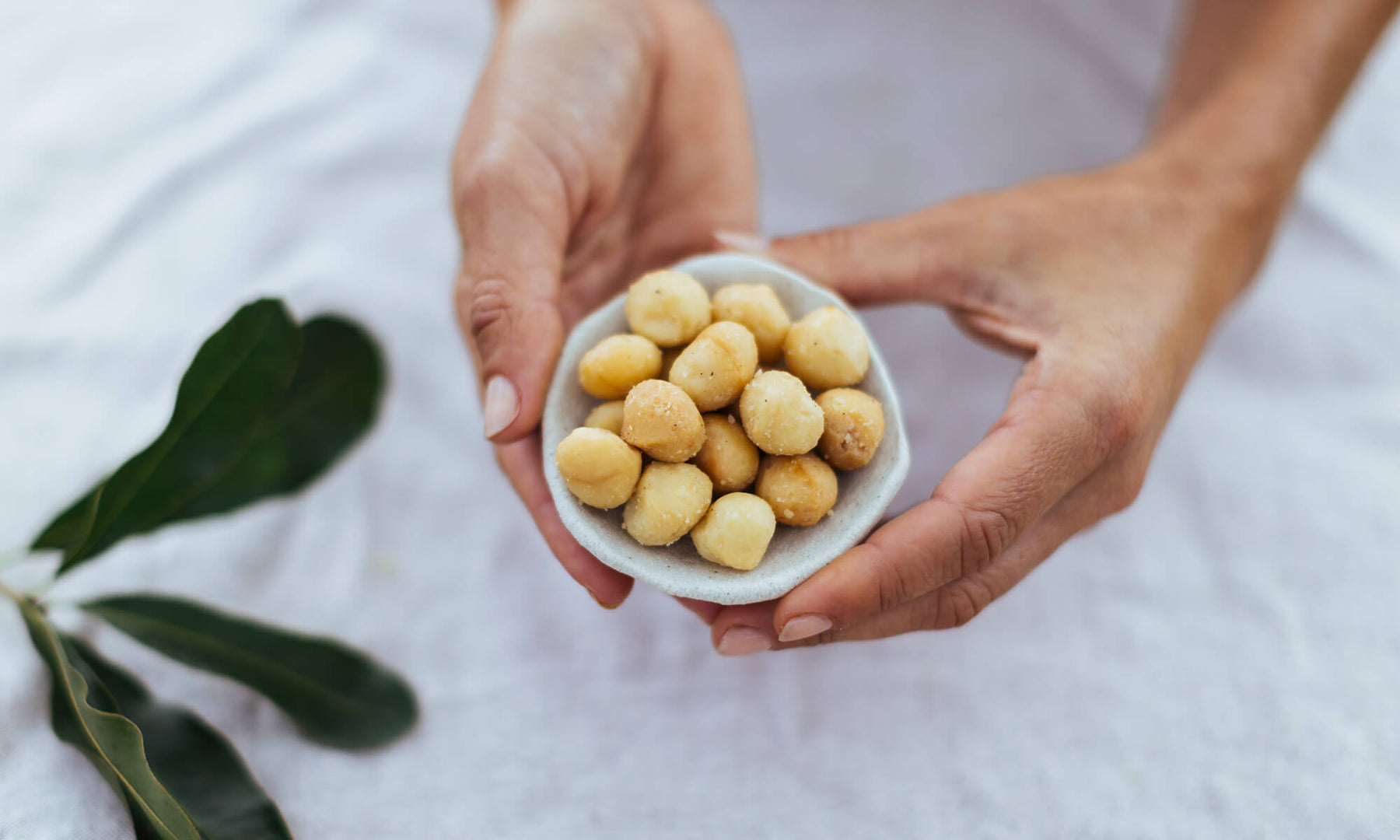 33 Facts Showcasing the Macadamia
There's no doubt that macadamias are the heart and soul of Brookfarm. It starts on the family farm all the way back in the beginning where the Brooks planted 4,500 macadamia trees. Pam Brook, the co-founder of Brookfarm, decided selling macadamias covered in chocolate did not do the nut justice and that's what sparked the idea of our favourite Toasted Macadamia Muesli.
Here's 33 facts about our favourite nut:
For most of the world, the Macadamia nut is known as the Hawaiian nut. This is because Hawaii was the first place to commercially sell the nut on a large scale.
In 1888, the first commercial orchard of macadamias was planted at Rous Mill, 12 km from Lismore, NSW, by Charles Staff.
Macadamia nuts are picked from the ground after the nut ripens and falls.
Macadamia nuts are still picked by hand on some farms, however, farms are starting to implement macadamia harvesters which were inspired by the golf ball picker carts.

The Macadamia nut is the hardest nutshell in the world. 
Macadamia nuts are high in monounsaturated fats which are known as good fats. These have shown to reduce overall cholesterol levels.
Macadamia nuts are high in vitamins and minerals.
Macadamia nuts may lower your risk of heart disease.
Eating tree nuts, like macadamia nuts, may reduce your risk of metabolic syndrome and contribute to lower more stable blood sugar levels as part of a healthy diet.
Macadamia trees are best grown in subtropical climates such as the Northern Rivers of Australia.
The macadamia nut is native to North NSW and Southeast Queensland
Indigenous Australians had different names for macadamias. Some of the most common names were Boombera, Jindill and Kindal.
The botanist, Ferdinand von Mueller, gave the genus the name Macadamia in 1857 to honour the chemist, medical teacher, and politician John Macadam. 
In 1866, William Purvis introduced macadamia trees to Hawaii as a windbreak for sugar cane. 
They were considered a delicacy to the Aboriginal People.
It can take between 7 - 10 years for the trees to begin producing nuts.
Only 2 out of the 10 species of macadamia trees produce edible nuts.
Macadamia nut oil is used in hair care products to moisturise and smooth hair.

Macadamia nuts are toxic to dogs. If ingested by a dog it can induce a temporary yet severe paralysis. 
Macadamia trees grow up to 10 metres high.
Macadamia trees can grow just as round with the crown of the tree replicating the height when mature.
Typically, Macadamias bloom early in the spring. Flowers attract bees, responsible for the pollination of this plant. Macadamias are also able to perform self-pollination.
Macadamia nuts make the perfect gut-friendly snack because they are high in healthy monounsaturated fats and low in sugar.
Macadamias can produce fruit for 40 to 60 years and survive more than 100 years in the wild. 
Macadamias contain around 2g of dietary fibre per serve, which is like the amount of fibre in a slice of wholemeal bread.
Macadamia nuts are one of the low FODMAP nuts.

Macadamia nuts are extremely versatile. They make for delicious muesli, granola, premium nut mix, milk, shampoo, butter, hand cream etc. (see products containing macadamias here)
The arrangement of leaves is called whorls. Macadamia whorls are coupled in three to six leaves. 
Macadamias prefer fertile, well-drained soils, a rainfall of 1,000–2,000 mm (40–80 in), and temperatures not falling below 10 °C (50 °F). 
Macadamia trees do not like temperatures over 35 degrees. Temperatures over 35 degrees can kill Macadamias quickly. 
The macadamia nut shell is five times harder than hazelnut shells and has mechanical properties similar to aluminium.
Macadamia trees can't grow on extremely steep slopes.
Macadamias are commercially produced in many countries of Southeast Asia, South America, Australia, and North America.