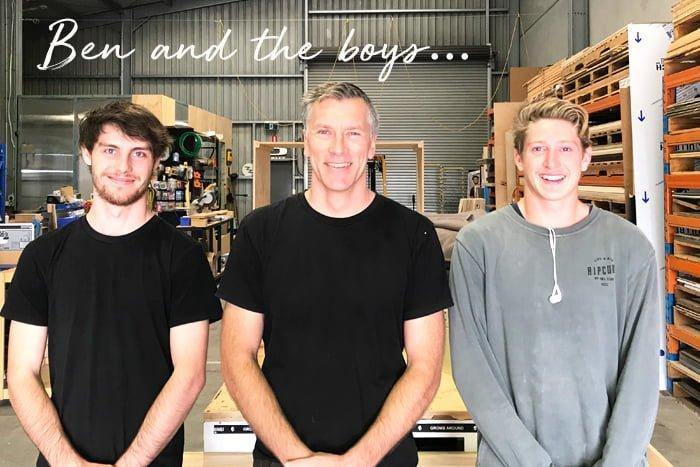 Meet Ben from Wholesome Designs... Local. Sustainable. Inspiring
"Without the support of our community and word of mouth we wouldn't be in business so it means everything to us. Our environment is also a part that community, so sustainability is part of our core principles" Ben
Tell us a little about Wholesome started and your success so far...
After living aboard designing and building for the Americas Cup teams and round the world race yachts, I took on having a small business for some independence and freedom in design and manufacturing. Responsibility and sustainability are not often associated with manufacturing and part of our success is providing an alternative for those with a similar ethos. We have been able to employ two young local apprentices, one of which has recently become a qualified tradesman. We are proud to continue to grow positive community relationships and provide training opportunities that are not readily available in regional areas.
What are the keys to staying current and growing within the design industry?
Continue to be inspired, experiment and retain some independence to keep your individuality in your design.
How important is being sustainable to you?
Wholesome is about a couple of things, quality products that last, design that stays current and timeless. We want to make as little impact on our environment as possible by using sustainable and responsibility sourced timbers and recycled plastics, eco-friendly inks and sealers and coating systems that are water-based and environmentally friendly. We also recycle our waste material and love a bit of up cycling.
What does COMMUNITY mean to you and your business?
As I have found a business is like a child and it takes a village as they say. Without the support of our community and word of mouth we wouldn't be in business so it means everything to us. Our environment is also a part that community, so sustainability is part of our core principles.
Favourite way to start your day? 
 Surf
Coffee or tea?
I definitely drink more tea than coffee, but I do enjoy a good coffee
What inspires you?
I am a Boat Builder, so clean lines, this includes a good swell or powder runs. 
If you could go anywhere in the world tomorrow where would you go and with who?
Well just miss the swell of a decade in Fiji and there is no real snow falling, so pile in the van with my wife Chantal, and two girls Bayleigh 4yo, Addison 2yo and drive the south coast of NSW, camping out in the van. Ever been so be good to go for a look.
Sum up yourself in one word…
Resourceful.
Thanks for your time Ben! Love Brookfarm x
#brookfarmforcommunity #environment #supportlocal
Environment. Community. Real Food.