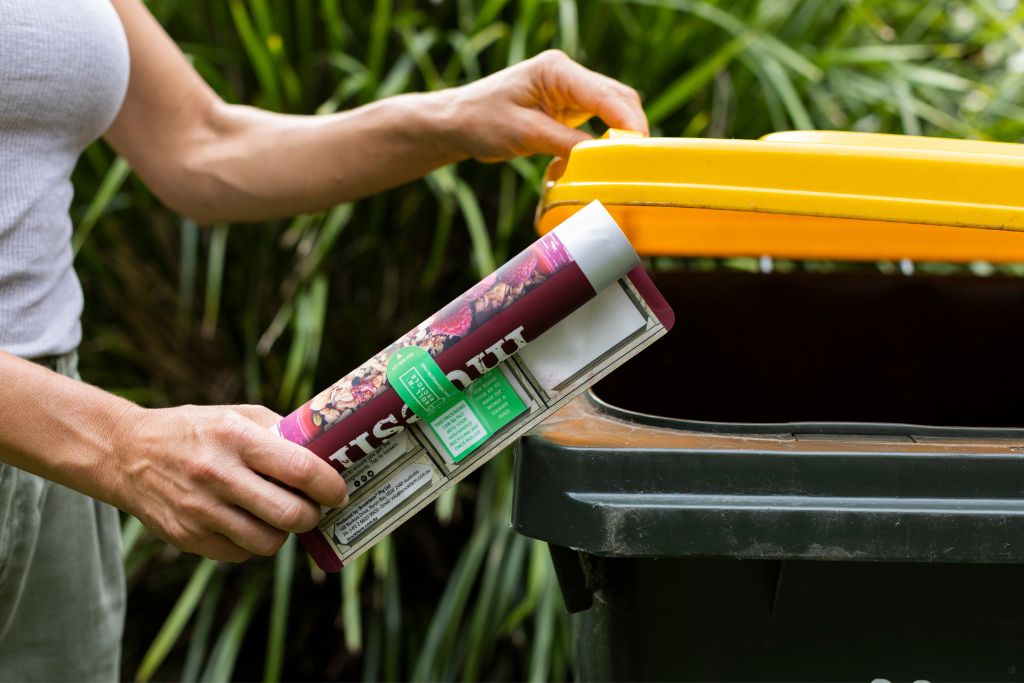 All you need to know about Roll 'N' Recycle
A world first soft packaging solution
Watch here to see how our Road to Recyclability brought to life the world's first, award-winning innovation in sustainable packaging, with Roll 'N' Recycle's at home solution for soft plastic pouches. 
Brookfarm, together with our packaging partner O F Packaging, was first to market with an at home recyclable soft packaging solution. A collaborative effort, with PREP Design, the original inventor of the Roll 'N' Recycle, and label and adhesive experts like Result Group, made our sustainable packaging solution come to life. 
Our award-winning Roll 'N' Recycle design ensures our packaging is recyclable and given a second life, while saving approximately 2 million bags from landfill each year. ​​​​​​​​
How to Use
All our Roll 'N' Recycle pouches have a bright green Roll 'N' Recycle icon on the front of the packaging and a bright green removable adhesive sticker on the back.
When the muesli is finished, the pouch can be rolled up, using the green sticker provided, and firmly secured in a cylinder bottle shape.
The Roll 'N' Recycle pouch can then be put straight into home kerbside recycling bin!
Quality and Freshness
It was really important to us that the quality and freshness was maintained. Roll 'N' Recycle ensures that the shelf life, preservation, quality and safety is exactly the same as previous packaging.
100% Recyclable
Our pouches are recyclable due to two innovations.
1) Our Roll 'N' Recycle pouches are made from a sophisticated single layer polymer (Recycle 4 LDPE). Even the green adhesive sticker that allows the Roll 'N' Recycle feature is the same material. Being made of one plastic, rather than layers of different kinds, makes it easier to be accepted by local council collections and recycled. 
2) By rolling and securing our pouch, from flat shape into a 3-D shape, it allows our pouch to mimic a rigid plastic bottle, which can then be sorted and recycled at the same success rate as rigid plastics.
Diverted from the soft plastics stream
Instead of having to collect soft plastics and return to a third party collections like REDcycle, consumers can put the Roll 'N' Recycle pouch straight into their home kerbside recycling bin.
Collected using existing standard collections
Our pouches can then be sorted correctly through standard recycling council collections that already exist, that accept rigid LDPEs. We recommend checking this with your local council if you are not sure.
This is the first in Australia and the world, in getting flexible packaging through existing curb side infrastructure.
Sorted easily through common streams
Due to the our single layer make up (Recycle 4 LDPE) and the 3-D rolled up shape, our pouches can be easily sorted into standard streams such as the mixed plastic 'coloured HDPE' stream. The pouches can be cleaned, flaked for reuse, and then sent to end-users of these single plastic streams.
Redirected back into the supply chain
Recycled plastics should be a valuable resource that can be re-used and re-purposed into other sustainable products. By making sure our pouches are to the highest recycling standards, they can be converted back into high performance base materials.
This increases their economical value, adding strength, durability and efficiency to a range of different sectors and the products they require.
Recycled and re-manufactured
Manufacturing companies such as O F Packaging, Close the Loop Group and Plastic Forests can process plastic flakes and re-manufacture them into other high performing products.
For example, O F Packaging's merge with Close the Loop Group aims to be an industry leader in sustainable innovation, with products such as TonerPlas, that improves the longevity of asphalt and being used by councils across Australia. They also produce rFlex, a recycled plastic resin that can be injection-molded into different shaped products.
Plastic Forests is an award winning Australian manufacturer of a wide range of recycled plastic agricultural, council and building products, right down to home solutions such as gardening beds!
Award winning sustainability
Showcased with the very best of sustainable innovation around the world, our Roll 'N' Recycle pouches have won multiple awards - a triumph for Australian packaging innovation. Click HERE to read more about our awards.
Receiving these awards are proud milestones in our dedication to making a difference in our community and the environment.
Creating a rolling effect
For Brookfarm, the Road to Recyclability, is just representative of a journey, of which we are at the beginning. Since we've launched Roll 'N' Recycle, a number of other companies have also revised their packaging and adapted this technology.
Hopefully by seeing our packaging, and others, more brands will be able to convert their packaging over, and embrace sustainable recycling - so that this becomes the every day.
Learn more
To learn more about our packaging partners O F Packaging and other local Byron Bay companies leading the way in recyclable packaging solutions - watch the mini documentary here.