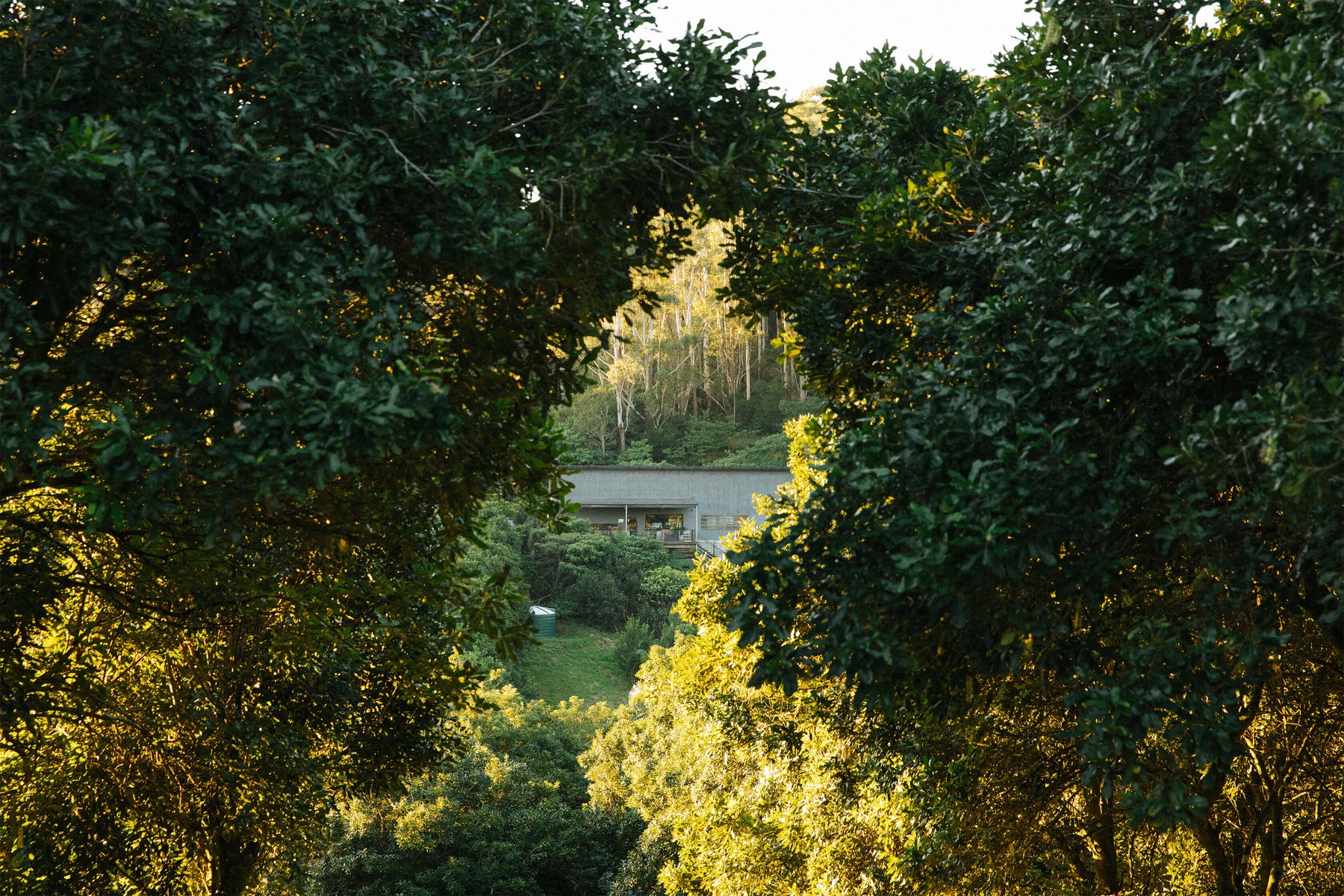 Sustainability is good, but we can do better. Here's how.
Sustainability is often known as the key to a better future. Without a doubt, there's a lot to love about it. The reality is, conventional agriculture generates a quarter of the greenhouse gas emissions.  
At Brookfarm, we're committed to doing everything in our power to protect our beautiful planet. We believe sustainability is good, but we can do better. We've learnt from the past and here's what we believe. 
Early decisions cause major consequences
The Northern Rivers, NSW, were first settled by Europeans in the 1880's. Settlers were given land on the proviso that it had to be cleared – finding the highly sought after Red Cedar tree sped up this process.
One hundred year later Pam and Martin Brook purchased a very sad and rundown dairy farm. The land was once part of the Big Scrub, 75,000 hectares of pristine rainforest stretching from Lismore in the south, Byron in the east and up to the Nightcap Ranges in the north. Now less than 1% of the rainforest remains.
The Brook family began clearing boulders and weeds, hacking their way through walls of lantana and to their surprise, laid a very small remnant of original rainforest. It became evident that the Brook's needed to do more and planted over 45,000 native Australian trees and 4500 macadamias.
Pam and Martin proved that a commercial farming operation could coexist with nature and that it is possible to implement critical regenerative agricultural practices.
'It's about working with nature, not against it. We want to farm the way nature intended.' – Martin Brook
From the start, the Brook family understood that they needed to do more. If they were to sustain the farm as it was then the land would continue to be commercially unviable. But that wasn't their vision. 30 years later, regenerative practices have allowed them to convert the land into a working macadamia farm and restore the ancient sub-tropical rainforest. But there's still more to do.  
Their experience has led Brookfarm to partner with similar organisations, like Big Scrub Landcare, who are committed to restoring and repairing the natural environment. Martin served as the Vice President of the internationally recognised organisation and is still actively involved.
The Big Scrub Landcare
Big Scrub Landcare knows the importance of doing more for the environment. Founded by Dr Tony Parkes, the organisation has been restoring and growing critically endangered rainforests for nearly 30 years. But it hasn't been easy. A host of challenges have made their journey for regeneration difficult.
The tangled problems of the Big Scrub
Initially, a variety of invasive weeds threatened to overtake and choke the remnants of the Big Scrub. 
It's a problem faced all over Australia but particularly in the hinterlands of Byron Bay. There's nothing sustainable about weeds and a key course of action was to remove all of them to stop the extinction of the Big Scrub. Today, there is an ongoing program addressing the long-term threat of lacking biodiversity. 
'There's a lack of genetic biodiversity because of the scattered remnants of the rainforest,' writes Chris Byrnes from Big Scrub Landcare.
'We're working with the Royal Botanic Gardens of Sydney to establish a genetically diverse seed plantation to produce a stock of threatened species.
'They'll have the optimal resistance to threats like pests, disease and climate change.'
Although challenging, these programs work and there have been significant wins.

One such win was the 'Enhancing remnants, linkages and corridors across the Big Scrub' project, which doubled or tripled a number of its expected outcomes. The three-year project, which was funded by the NSW Environmental Trust, converted 22 hectares of mixed camphor laurel to regenerate lowland subtropical rainforest. This created links between remnants and expanded the area of rainforest habitat in a critical section of the Big Scrub.
For more information on the project click here.
So which is it: sustainability or regeneration?
Chris sums it up well saying, 'Regenerative practices have the ability to achieve more for the environment, but each has its place. While the importance of sustainable practices shouldn't be downplayed, the extra benefits of improving soil health and food's nutritional value, re-establishing habitat for wildlife and conserving biodiversity bring benefits above and beyond simply being sustainable.'
Here's how you can do more
Plant Native

Anyone can help restore habitat no matter how small their contributions. Planting native plants or helping to regenerate and care for rainforest helps create linkages between habitat corridors.

Buy from socially responsible businesses

It's critical that we move away from farming practices that degrade the environment. The technology is available to do so, and forward-thinking businesses have been able to use it to  their advantage by growing healthier produce to provide the consumer with better products.

'The emerging trend of supporting environmentally responsible companies is also expected to grow. In the future successful companies will use business as a power for good, embracing their responsibility to the planet while at the same time creating a brand that is more desirable to the consumer.'

At Brookfarm, we know first hand the importance of business. That's why we are doing everything in our power to protect our beautiful planet.

Donate

By donating to grassroot organisations, you affect real change. You're giving recognition, support and financial assistance to organisations that have serious commitment to the environment.

We support Big Scrub Landcare for their critical work in saving the remnants of the Big Scrub. They've been instrumental in sharing their wisdom in this article and we are incredibly proud of their work. Support Big Scrub Landcare today.

Join a landcare group

Landcare groups are grassroots communities dedicated to restoring and managing environmental issues in local communities.

It's a practical way to understand your local environment and the imposing threats. Help your community do their part for the planet.

Create a CSA box

Community Supported Agriculture (CSA) is a fun and unique way to get your fresh produce straight from the farm.

Similar to a subscription box, you will make a commitment before the season to purchase a share of your local farms produce. In return, the farm will get you a box of locally grown produce that has been grown by farmers who care for the soil and ecosystem.

'We should be able to get to the point where food costs the same and so people will demand it's grown from regenerative agriculture and that will create supply,' states Tristan Harris, CEO of Harris Farms, in the UNSW Business Think podcast.

A CSA box supports local farmers, local businesses and starts to create higher demand for regenerative food production.

Start companion planting

Companion planting is the process of combining plants that can benefit from being in the same soil.

These commercial farming practices can apply to your backyard veggie garden (and we know Australians love a backyard veggie garden). A key part of regenerative farming is to improve soil health. Companion planting is a great way to show, on a small scale, how plants can work together to improve soil quality, increase yields and bring together a variety of insects. Your veggie garden will love you and you'll have the most productive crop in your neighbourhood!

Using your small scale farm, aka veggie garden, as a way to learn about healthy farming techniques means we are one step closer to demanding our grocery food be grown in a sustainable way.

We've started companion planting between the macadamia orchard rows. Join us in improving our soils.

Remove invasive species in your backyard

Invasive species aren't from the local environment meaning the species can't live harmoniously in the original ecosystem. Dr Michela Plein sums it up nicely:

'The negative consequences of invasive species are varied and can range from mild to catastrophic. These include the loss or alteration of native habitats, extinction of native species, impacts on human health, and escalating economic costs.'

The Brooks removed the incredibly destructive weed, camphor laurel, in the early days of the farm. Quickly, native species were liberated and covered the rainforest floor. Biodiversity was reestablished and has continued to attract local insects and animals

Remove weeds in your backyard and see the impact! You'd be amazed at the native beauty that belongs in your backyard.

Continue to learn

We need to recognise what we do as a society has impacts on the earth. Education is critical to understand the effects of our actions. Here are some great ways to educate yourself on sustainability and regenerative agriculture.
Kiss the Ground
is a full-length documentary narrated by Woody Harrelson that sheds light on an 
"new, old approach"
 to farming called "regenerative agriculture" that has the potential to balance our climate, replenish our vast water supplies, and feed the world.
Study regenerative agriculture
Southern Cross University have
regenerative agriculture courses
that are designed for students who want to be a part of a new way of farming that better supports, and is supported by natural processes, building more resilient farms and farmers in a future of increased seasonal and weather variability.
Here are our favourite books that discuss regenerative agriculture and the importance of doing more: