Aromatic Seafood Pot
CREATED BY
SUMMARY
A delicious aromatic seafood pot cooked by Steven Snow of Fins Restaurant.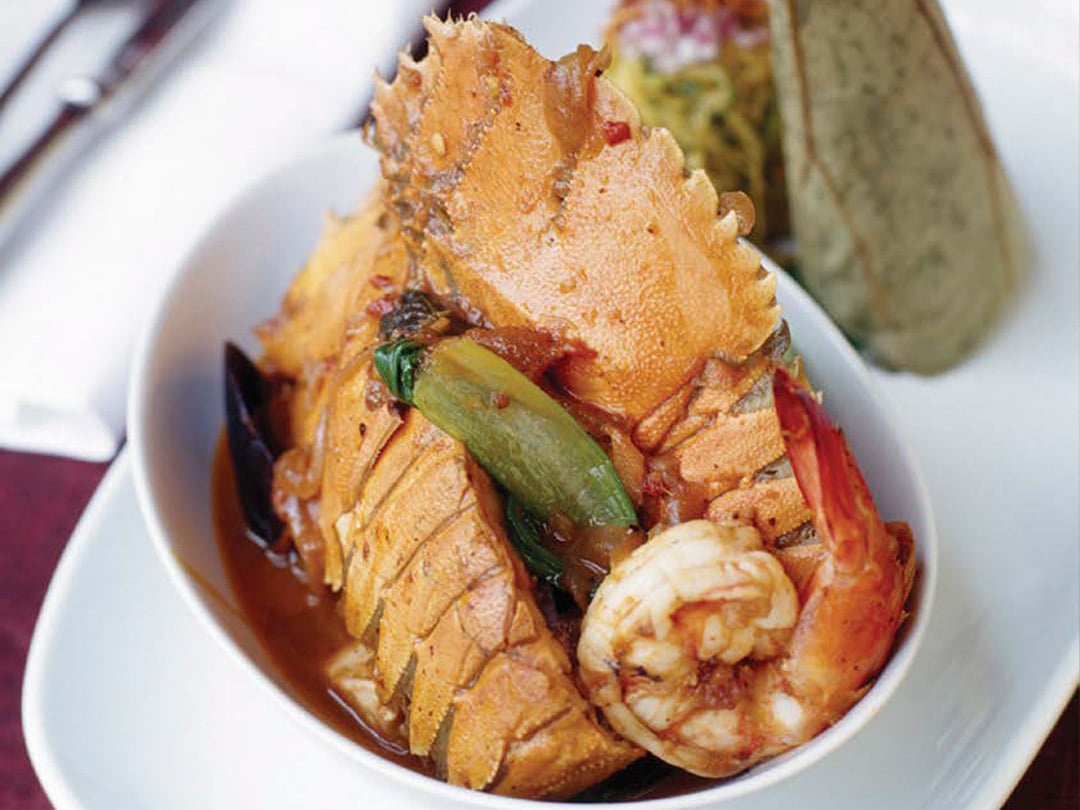 All of the best seafood
Ingredients
30ml (1.5 tablespoons) Premium Macadamia Oil
5ml (1 teaspoon) sesame oil
8 red shallots, finely sliced
1 clove garlic, finely chopped
½ cm (1/4") piece of ginger, peeled and finely chopped
2 raw Moreton Bay bugs, cut in half lengthways (substitute mussels)
250g (8oz) boneless fish fillet (mahi-mahi, blue eyed trevalla, cobia or similar) cut in 10 large bite sized pieces
4 x 10 cm (4") squid tubes – cleaned and cut into 4 lengthways
4 large green king prawns, peeled and deveined. Leave tails intact
10ml (2 teaspoons) gluten free dark soy sauce or gluten free tamari
10 ml (2 teaspoons) fish sauce
10 ml (2 teaspoons) sweet chilli sauce
1 fresh kaffir lime, leaf finely chopped
250 ml ( 1 cup) fish or chicken stock
80 ml (4 tablespoons) coconut milk
6 whole basil leaves
6 coriander leaves
1 spring onion. Chopped diagonally
Steamed or boiled rice to serve
Method
Heat the oils n a wok over a medium heat.
Add shallots, garlic, ginger and bugs and stir fry for 1 minute.
Add the fish, lightly toss and fry for 30 seconds.
Add squid, prawns and fry for a further 30 seconds.
Add soy, fish sauce, chilli sauce and kaffir lime leaf.
Toss to combine. Fry for 10 seconds, coating the seafood.
Add stock and increase heat to bring to a simmer.
Add coconut milk and the remaining ingredients.
Serve immediately with steamed or boiled rice.