Spiced Chocolate Fruit Cake
TIME
30 mins prep | 50 mins cook
SUMMARY
This chocolate spiced fruit cake is a real winner. A delicious Christmas fruit cake with a mix of both milk and dark chocolate.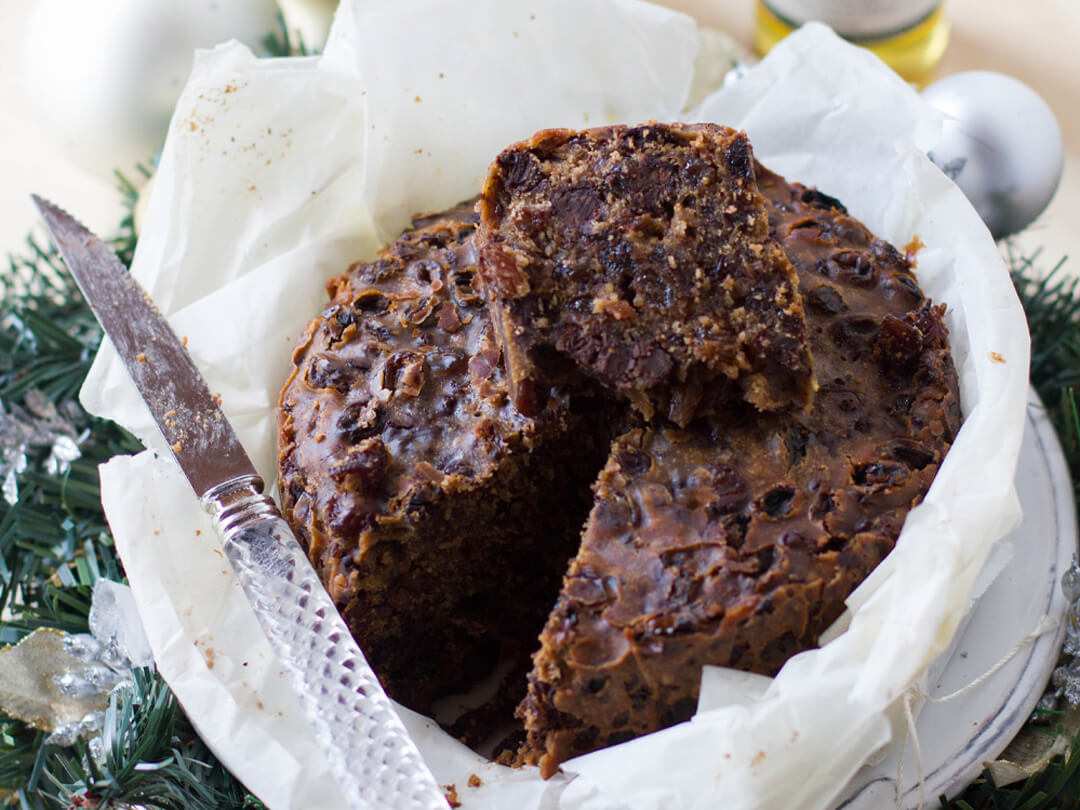 The perfect Christmas fruit cake
Ingredients
500g raisins
100g pitted prunes, chopped finely
½ cup rum (or brandy/port)
½ cup water
50g milk chocolate, chopped roughly
50g dark chocolate, chopped roughly
½ cup Premium Macadamia Oil
2 eggs, lightly whisked
1 cup wholemeal flour
1 tbsp garam masala
Vanilla ice-cream or custard to serve
Method
Preheat oven to 180C (160C fan-forced) and line a 15cm diameter round cake tin with baking paper.
Place raisins, chopped prunes, rum and water in a medium saucepan over medium high heat. Bring to a gentle simmer, reduce heat to low and simmer for another 5 minutes. Take off the heat and transfer to a large mixing bowl.
Add chopped chocolate, milk and dark, to the warm rum and raisin mixture and mix well to help the chocolate melt. Set aside for 10 minutes for the mixture to cool slightly.
When ready, add oil and eggs and mix well. Add flour and garam masala and continue to mix until all the flour has incorporated into the batter.
Spoon batter into the baking paper-lined cake tin. Cover the top of the tin with a sheet of baking paper long enough to wrap around the whole tin. Secure with kitchen string.
Bake in a pre-heated oven for 50 minutes. Remove from oven, wrap in kitchen towel and place on a rack to cool overnight.
When ready to serve, unwrap the cake and slice. Serve on its own or with some ice cream and/or custard.