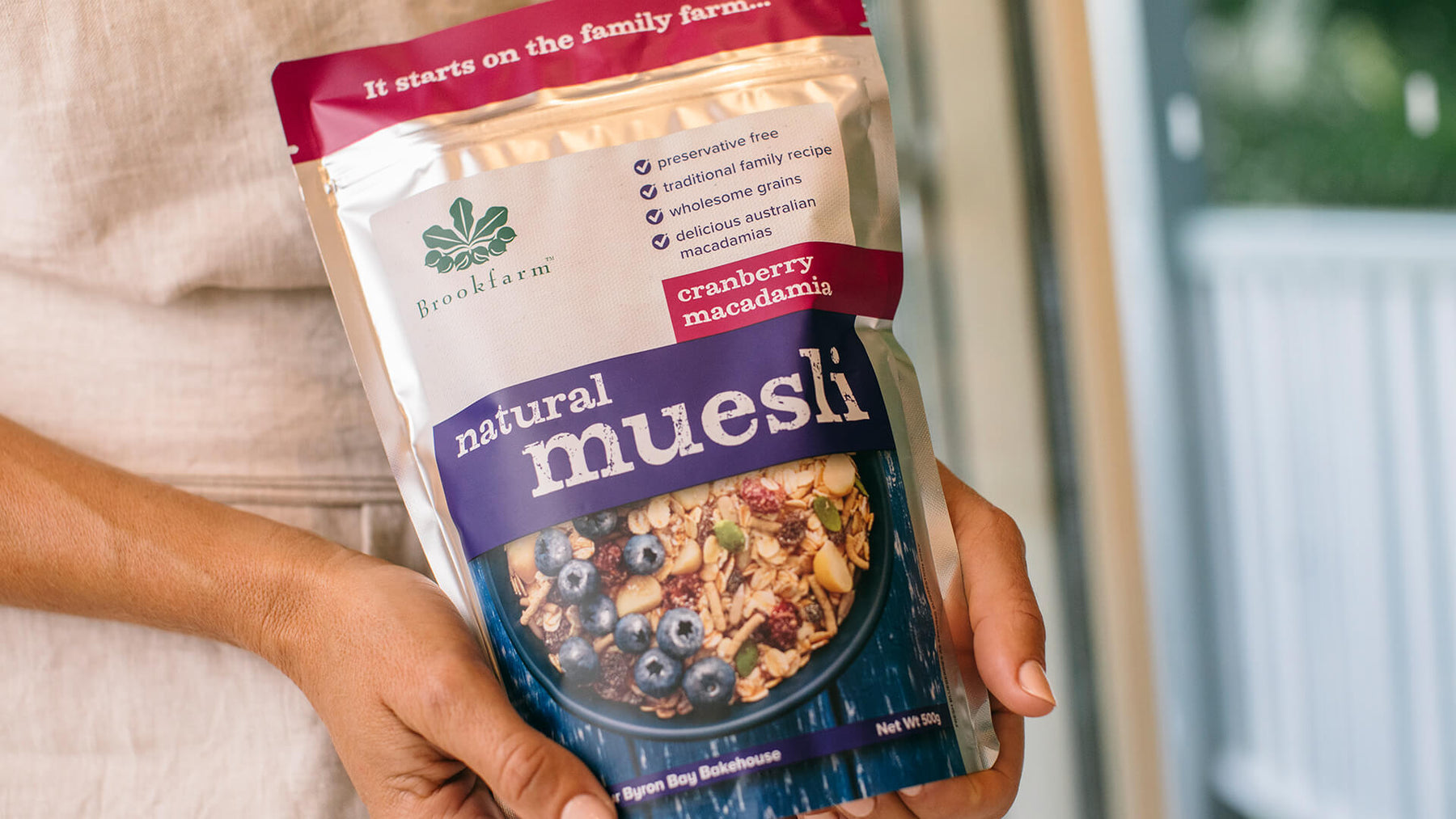 5 Fun Ways to Use Your Morning Muesli
There's no denying our love for Muesli. It's a healthy and delicious breakfast that sustains you throughout the day.
Muesli is a popular breakfast and is usually served with milk and fruit. Some people like to add yoghurt for some creaminess but we think there are so many fun ways to use your morning muesli.
Muesli's are made from wholefood ingredients and with the rise of gluten free options, which use buckwheat instead of rolled oats, there are so many fun and diet-friendly ways to eat and use it. 
We want to show you 5 different ways that use your morning muesli and it's not just for breakfast. Most of our suggestions can be eaten at anytime of the day and don't require too much time in the kitchen. We believe real food should taste great and be easy to make.  
All the recipes that we suggest can be used with Brookfarm Muesli.
What's the difference between oats and Muesli?
According to ETimes, 'the biggest difference is muesli is ready to eat cereal whereas oats need to be cooked.'
Muesli is a mixture of rolled oats, rolled barley, barley bran, oat bran and then a variety of nuts, seeds and fruits. This makes for a much yummier breakfast than just oats which don't have a blend of ingredients. 
What goes well with muesli?
There's a whole lot of ways to use Muesli and be extra yum! Just before we suggest some unique ideas, muesli tastes great when you:
Add fruit like banana, blueberries, or strawberries

Create a breakfast muesli smoothie

Make bircher muesli

Decorate a muesli smoothie bowl
Now, here's a couple fun ways to make use of your morning muesli!
1. Make Muesli Bars
It sounds self explanatory that muesli bars contain muesli. But have you ever considered making some?
Muesli bars are a healthy on-the-go snack that can sustain your energy. They are convenient, cost effective, and full of important nutrients such as dietary fibre. 
You can even make muesli bars without an oven.
No Bake Muesli Bars take roughly 30 minutes to make and can be that perfect, sustaining snack for the coming week.
Maybe you feel like treating yourself? Chocolate Covered Muesli Bars will certainly help you beat that 3pm slump.


2. Muesli Muffins
Another great idea for a snack is Muesli Muffins!
Muesli Muffins are a favourite grab and go snack in the morning or afternoon. They can even work well as breakfast when you are running late for work (we've all been there). 
Muesli muffins contain all the goodness of muesli but in a great convenient way. Our favourite Muesli Muffin flavour is Cranberry Macadamia. Give it a try today!


3. Muesli Bread
Have you heard of muesli bread before? Muesli Bread is easy to make and great for a hearty meal or snack. You'll be full after one slice (trust us)!
The recipe takes 1 hour but it is a fairly easy recipe to follow and prepare. You don't have to be a cook to make Muesli Bread. The preparation takes less than 20 minutes and the bread takes 40 minutes to cook.
We recommend using our Natural Macadamia Muesli with Cranberry.
4. Hedgehog Slice
Our muesli hedgehog slice is one of our most popular recipes. It's a simple but extremely taste recipe that only uses 5 ingredients!
The recipe is much healthier than the traditional hedgehog slice making it the ideal afternoon or dessert treat. We replace the condensed milk and butter with organic coconut coconut cream and dark chocolate to make it richer in flavour.
When used with Brookfarm's Gluten Free Macadamia Muesli with Cranberry there's no doubt why it is our favourite.


5. Berry & Macadamia Crumble
The combination of stewed berries with crunchy macadamia muesli makes an award worthy crumble!
The recipe is perfect for a Friday or Saturday night dinner party. If you aren't the best cook then this recipe is for you. If you use Brookfarm's  Natural Macadamia Muesli with Cranberry the simple and delicious dish will stop you from stressing and keep your guests happy.
Do you have a recipe worth sharing? Share it with info@brookfarm.com.au and become a contributor today.