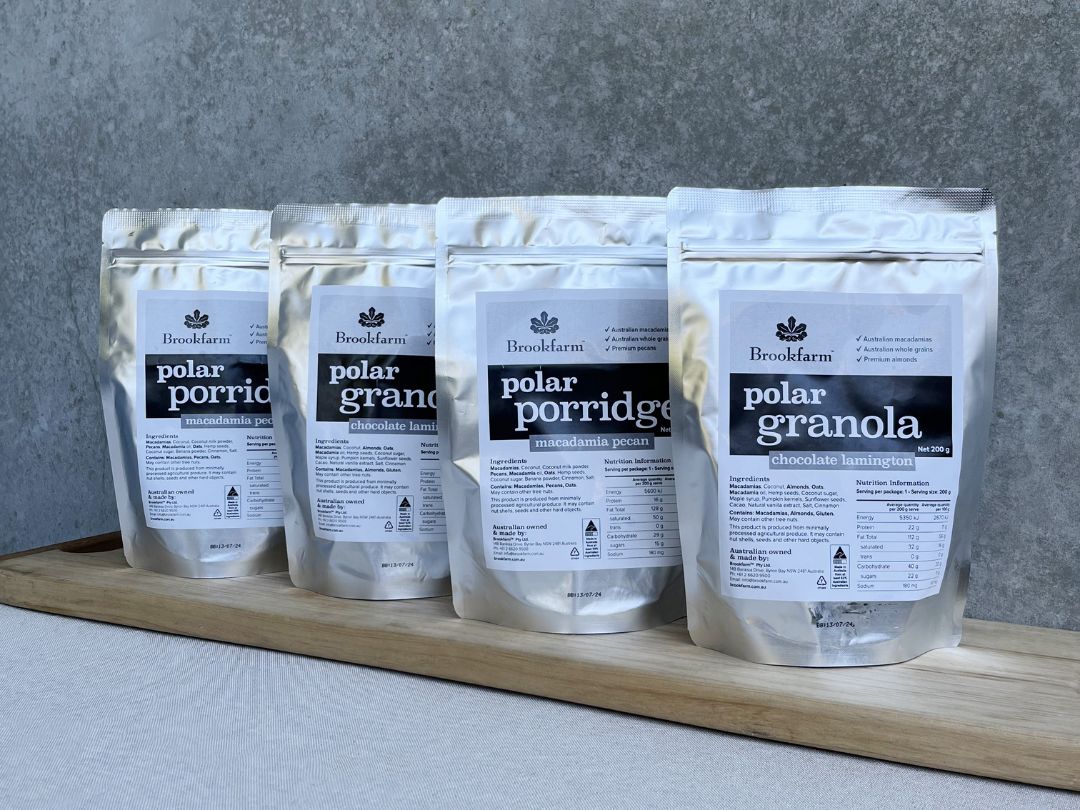 Project Zero: Record-breaking journeys fuelled by Brookfarm
As the breakfast provider for Project Zero, we have supplied nutrient rich breakfast options for the crew of four, to fuel a total of 60 days sailing - from Australia to New Zealand, Patagonia, Antarctica, and Brazil.
Polar Explorer, Dr Geoff Wilson and his filmmaker son Kitale, drone pilot Jordan Pearson and crewman Alistair Burton will rely on Brookfarm's specially formulated Polar Granola and Polar Porridge, to power their adventure from the South Pole to the North Pole. We have also supplied other Brookfarm mueslis and granolas for variety of flavour. Find out more about Project Zero HERE.
Not your average breakfast
Pam Brook, co-founder of Brookfarm and Head of Innovation, specially created Polar Granola and Polar Porridge, to meet the rigorous demands of the expedition. These energy-packed products are an impressive 5,350kJ and 5,600kJ per 200g, respectively, making them far from your average breakfast.
With maximum calories, yet high in good fats, and nutrition, they will be the cornerstone of the team's daily intake, providing the energy needed to tackle each leg of this extraordinary carbon neutral voyage. 
A legacy of adventure and nutrition
Brookfarm's commitment to providing nutritional options stems from a generational influence for good health and the great outdoors. Pam's father, Mick Hull, was one of Victoria's skiing legends, and one of Australia's early pioneers of downhill skiing.
He climbed Mt Bogong, the highest mountain in Victoria, over 200 times - with the last climb at age 82.
Mick was also passionate about muesli and trail mixes, and always had a home-made blend of delicious chocolate, fruit and nuts carried in his pack, which he called "scroggin". 
"Our kitchen used to be filled with jars of oats, bran, nuts, grains, seeds, dried fruits and secret ingredients my father would specially request. He would then blend a new mix each week until the ideal combination was achieved," says Pam. 
Mick's love of nourishing breakfasts and snacks was the inspiration behind the original Natural Macadamia Muesli and our Mt Bogong Walkabout Mix, inspired by his devotion to Victoria's highest mountain.
Fuelling record-breaking journeys
In 2019, Pam dedicated several months creating the two original products for Geoff's previous record-breaking adventure - The Longest Journey, which marked the longest solo, unsupported Polar Journey in human history and the first summit of Dome Argus, completed solo and unsupported.
You can read more about Geoff's record breaking adventure and Brookfarm's partnership HERE.
Following the success of that journey, Geoff reached out again, and we are so excited to be embarking on another incredible adventure - this time from South to North Pole!
Energy packed yet delicious
Brookfarm's Chocolate Lamington Polar Granola and Macadamia Pecan Polar Porridge have been meticulously crafted to give the team the best possible start to their day, ensuring they have the energy they need. 
Packed full of nuts, seeds, whole grains and macadamia oil, high in healthy fats, the Chocolate Lamington Polar Granola and Macadamia Pecan Polar Porridge hit the mark with calories and nutrition for the crew, supporting them with the nourishment and energy needed to conquer the world's most challenging terrains.
Geoff said: "On my last journey, I could take a meal of that, and go for 22 hours, non stop." 
Every detail has been considered, including lightweight and single-serve packaging with minimised air for reduced weight and space. This allows the team to open, pour in milk powder or hot water, and enjoy straight from the pouch.
With a calorie drain of approximately 3,000-3,500 Kcal/day during the ocean leg of their journey, these products provide the best start to each day.
Nutrition for motivation and morale
Not only is nutritious food a primary source of energy, but it can also be a necessary source of motivation and morale. In challenging terrains, like the ones undertaken by Geoff, Kitale, and their expedition team, nutritious yet delicious options not only fuel the body, influencing performance and recovery, but can also provide a much needed boost in the scarcity of comforts, keeping morale high.
 --------------------
To learn more about the Project Zero journey, and follow along, with social updates, live location and webcams onboard the vessel, visit:
Website: Project Zero
Instagram: @projectzero_earth, @drgeoffwilson, @wildearthaustralia
Facebook: Project Zero