Cosy Weekend Brekky Plate
CREATED BY
SUMMARY
A delicious gluten free and vegan weekend brekky made with scrambled tofu, roasted herb potatoes & asparagus - and of course, our
Keto Premium Paleo Granola.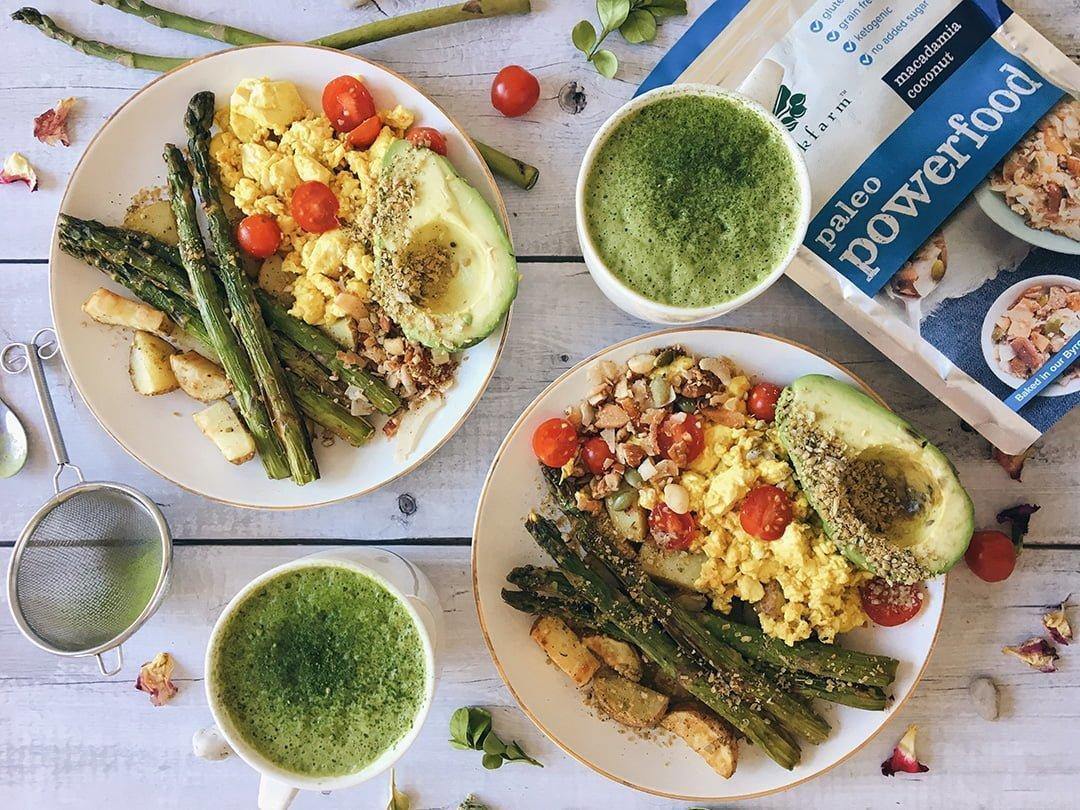 Cafe style food, made at home
Ingredients
2 potatoes, cubed
10 spears of asparagus
1 tbsp Premium Macadamia Oil
1 tsp salt
Black pepper
2 tbsp hemp parmesan (or sub with 1 tbsp dried herbs of choice e.g. thyme, rosemary + 1.5 tsp hemp seeds + 1.5 tsp nutritional yeast)
Scrambled Tofu:
1 block (300g) silken tofu
1 tsp Premium Macadamia Oil
1 tbsp nutritional yeast
1/2 tsp ground turmeric
1/2 tsp garlic powder
1/2 tsp onion powder
1/2 tsp paprika
1/2 tsp salt & pinch of ground pepper
2 tbsp unsweetened soy milk
To plate: 1 avocado, halved, 8 cherry tomatoes, halved, 2 tbs Keto Premium Paleo Granola
Method
Preheat oven to 190C.
Rub potatoes and asparagus with oil, salt & pepper and hemp parmesan.
Add the potatoes to a lined baking tray and roast for 20 mins or until softened.
Add asparagus to the same tray and roast for another 10 minutes until asparagus and potatoes are golden brown.
Sprinkle additional hemp parmesan on top.
Heat oil in a frypan and add in the whole block of silken tofu.
Pan fry for 1-2 minutes until one side gets golden brown.
Use a wooden spatula to crumble the tofu into small pieces and add in the turmeric, nutritional yeast, garlic & onion powder, paprika, black salt and black pepper.
Stir fry for 1-2 minutes and then add in the soy milk; cook until desired consistency.
Divide all ingredients between your plates, top with avocado, tomatoes and Keto Paleo Granola and enjoy!