Gingerbread Muesli Cake
CREATED BY
SUMMARY
What a cracker of a cake with Good Chef Bad Chef's recipe: Gingerbread Muesli Cake, with thanks to Chef Adrian Richardson. Our Toasted Muesli Macadamia Cranberry makes it so easy to add some healthy ingredients in, that are deliciously crunchy as well.
Aromatic spices such as ginger, cinnamon, nutmeg go so well with our Australian macadamias and bush honey. With a super simple glaze on top, it's a great option for Christmas in July planning!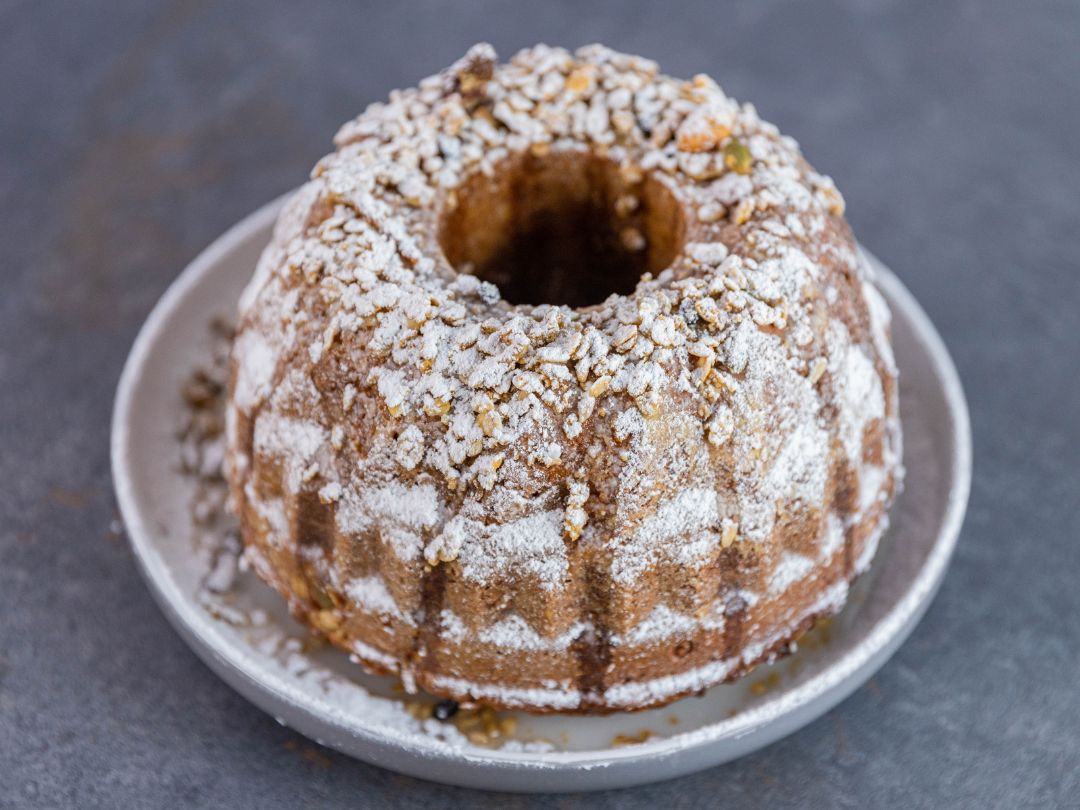 Gingerbread Muesli Cake
Ingredients
For the Cake
2½ cups self-raising flour
1 cup buttermilk
250g unsalted butter, room temperature
1 tbsp golden syrup
4 eggs
2 tsp ground ginger
2 tsp ground cinnamon
1 tsp nutmeg
1 tsp allspice
1 cup brown sugar
1 cup caster sugar
1 tsp baking powder
1 tsp bicarb soda
2 cups Toasted Muesli Macadamia Cranberry
To Serve
Icing sugar
Toasted muesli
Method
Preheat the oven to 180°C. Grease a bundt cake tin with butter and dust with flour.
Add the flour, butter, golden syrup, eggs, spices, brown and caster sugar, baking powder, bicarb soda and ½ cup of toasted muesli in a food processor. Blitz to combine until it's smooth and there is no lumps.
Transfer the mixture to a bowl. Gently fold in 1 cup of muesli.
Pour the mixture into the cake tin and sprinkle with the remaining ½ cup of muesli.
Bake for 35-40 minutes until cooked through and golden brown.
Allow the cake to cool down. Remove from tin.
Whisk icing sugar with warm water to create a glaze icing. Pour a couple of tablespoons over the cake.
Sprinkle with extra muesli and icing sugar and serve.