Pan Seared Snapper with Grilled Veggies Salad & Macadamia Pesto
SUMMARY
A fresh & delicious dinner recipe for any night of the week - or a great sharing dish for next dinner party.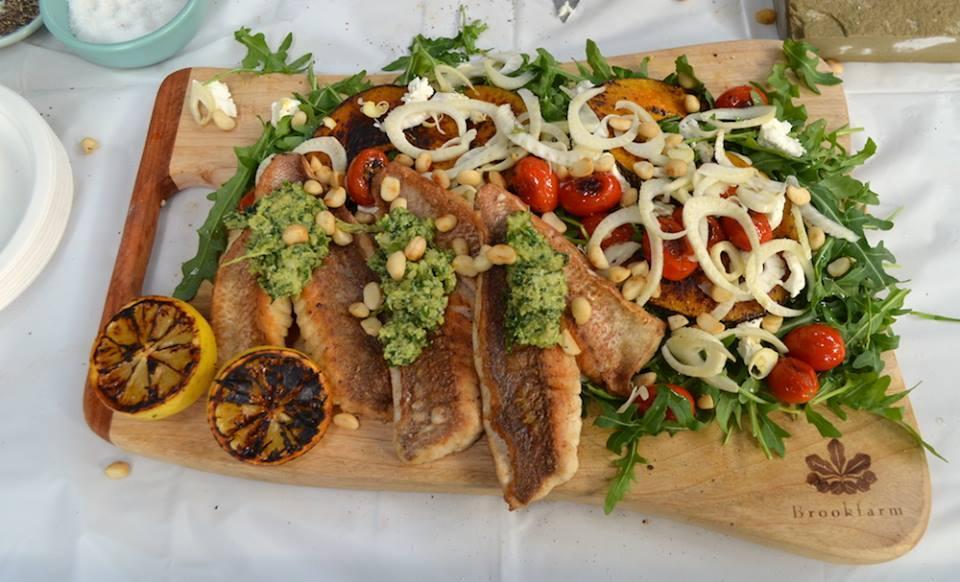 Ingredients
4 x Snapper fillets (skin on)
200g rice flour
500g pumpkin
One punnet cherry tomatoes
2 tbsp Premium Macadamia Oil
200g rocket
100g chopped macadamias (dry roasted)
100g feta cheese
1lemon cut in half
1 fennel bulb
100ml rice vinegar
1 ½ tbsp sugar
100g macadamias, chopped
1 bunch basil leaves
1 garlic clove
Parmesan cheese
1/2 lemon, juiced
6 tbsp Premium Macadamia Oil
Salt & pepper
Method
Use a mandolin and slice the fennel or cut relatively thin with a knife. Combine vinegar, sugar, 20ml water & salt & pepper in a bowl, stir until dissolved. Add sliced Fennel and set aside for 20-30mins.
Cut pumpkin into ½ cm slices. Toss the cherry tomatoes and cut pumpkin with macadamia oil, salt & pepper and cook on the BBQ until golden brown and tender. Cut lemon in half and place on grill cut side down (cook until golden).
Roast macadamias in a dry pan (without oil) until golden brown and aromatic (keep half aside as a topping). In a mortar & pestle or blender combine the roast macadamias, garlic, basil, salt & pepper and parmesan until broken down. Add the lemon juice then the macadamia oil until the mixture is loose well combined.
Dust snapper fillets in rice flour, salt & pepper and pan-fry skin side down in medium-hot fry pan with macadamia oil, cook for 3 mins on one side (until golden & crispy), flip and then cook for a further 2mins or until cooked.
Assemble on a large chopping board with rocket, pumpkin, tomatoes, feta cheese and pickled fennel. On the side add grilled snapper with a dollop of macadamia pesto and roasted lemon. To finish sprinkle with roast macadamias, drizzle with macadamia oil and squeeze over the roast lemon.